WANTED: GENTLY USED CHILDREN'S BOOKS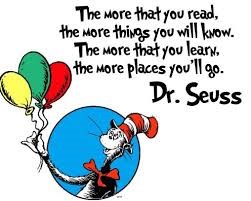 Have your kids outgrown those shelves full of books? Allow another child to enjoy the excitement of books by donating them to a worthy cause! The books will become part of a used book sale that helps support the PTO. The book sale will be held during Read across America week. Books will be collected Monday, February 27, and Tuesday, February 28, 2017. (more)
Portage Area School District Announces Honor Roll Students
Click here to view the list of students from grades 3-12.
Madelyn Single Advances to Regional Band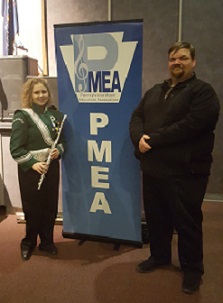 Portage Area High School Senior, Madelyn Single, recently participated in district band. In preparation for the February 10th concert, she spent three days practicing with other area high school students at Westmont Hilltop High School. Maddy received a high enough score during auditions to advance to Regional band that will be held March 22nd through the 24th at Richland High School.
Former UFC Fighter Speaks to PAHS Students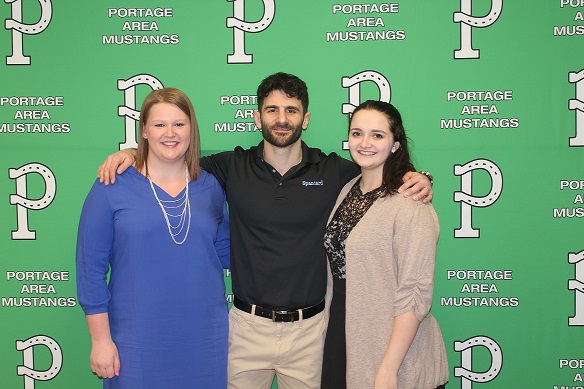 Former Hollidaysburg wrestler, teacher, and coach, Charlie "The Spaniard" Brenneman spoke to the Portage Area High School students on Thursday, February 16th. Mr. Brenneman shared his program, "Write YOUR Story", to encourage students to pursue their own personal dreams and aspirations. At the conclusion of the assembly, Charlie participated in a meet-and-greet with PAHS students which allowed for one-on-one conversation. He also had his autobiography, Driven: My Unlikely Journey from Classroom to Cage, available for students which tells the story of The Spaniard's humble upbringing in Central PA to his international success as a professional athlete. This program was organized by Emily Krisko and Kayla Vocco as their senior project, with the help of Mr. Kassick and Mrs. Gdula.
Diversity in Sports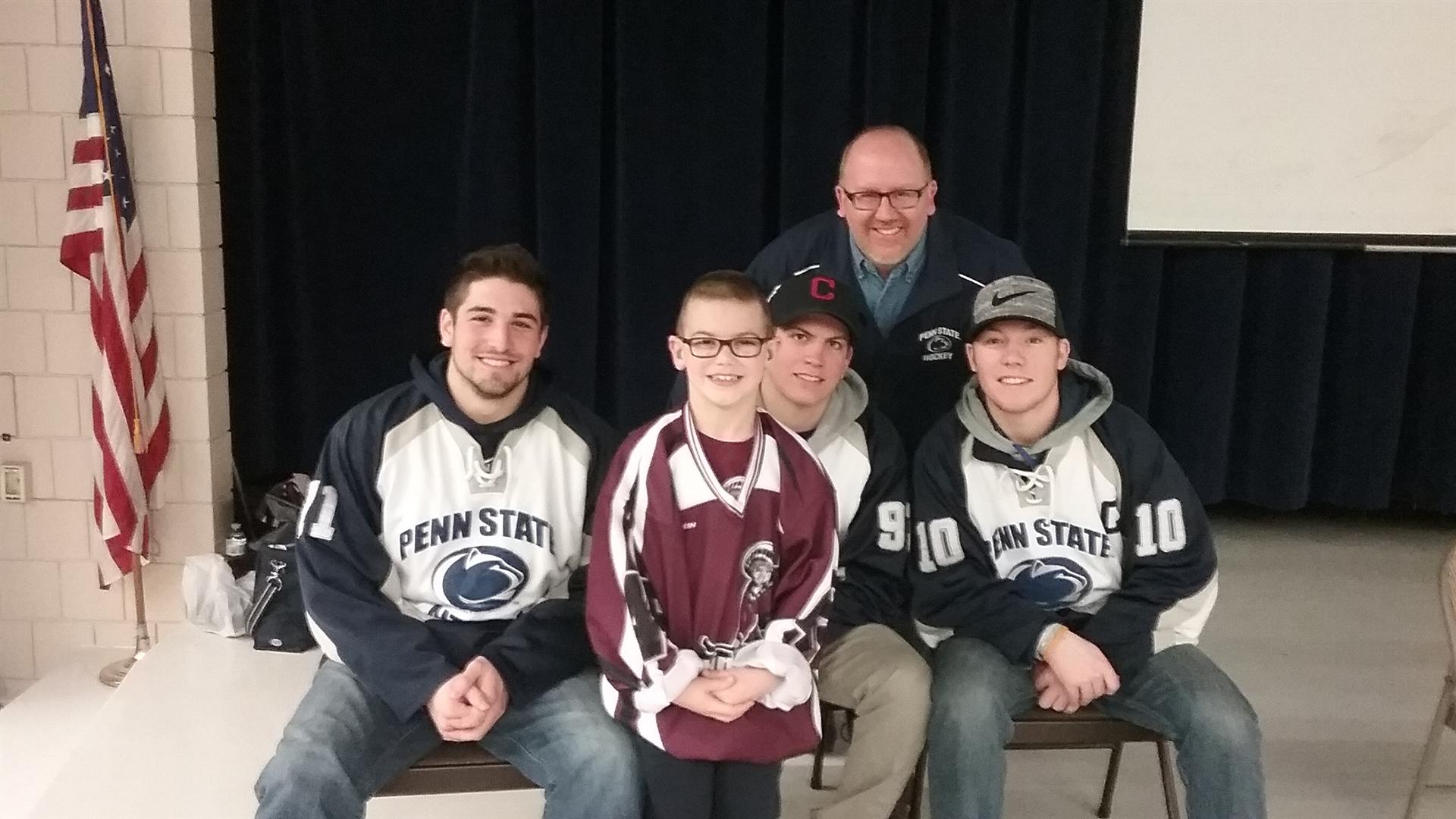 Maryellen and Dan Young, parents of Brayden Young of our school district, organized an assembly on February 3rd to raise awareness about Diversity in Sports. Brayden has been playing sled hockey for the Sitting Bulls Sled Hockey Team in Johnstown since June 2016 and currently plays goalie for the Novice team. To share the message of Diversity in Sports, Brayden's parents invited many speakers to the assembly to share their stories. (more)
Portage Students Participated in Chorus Festival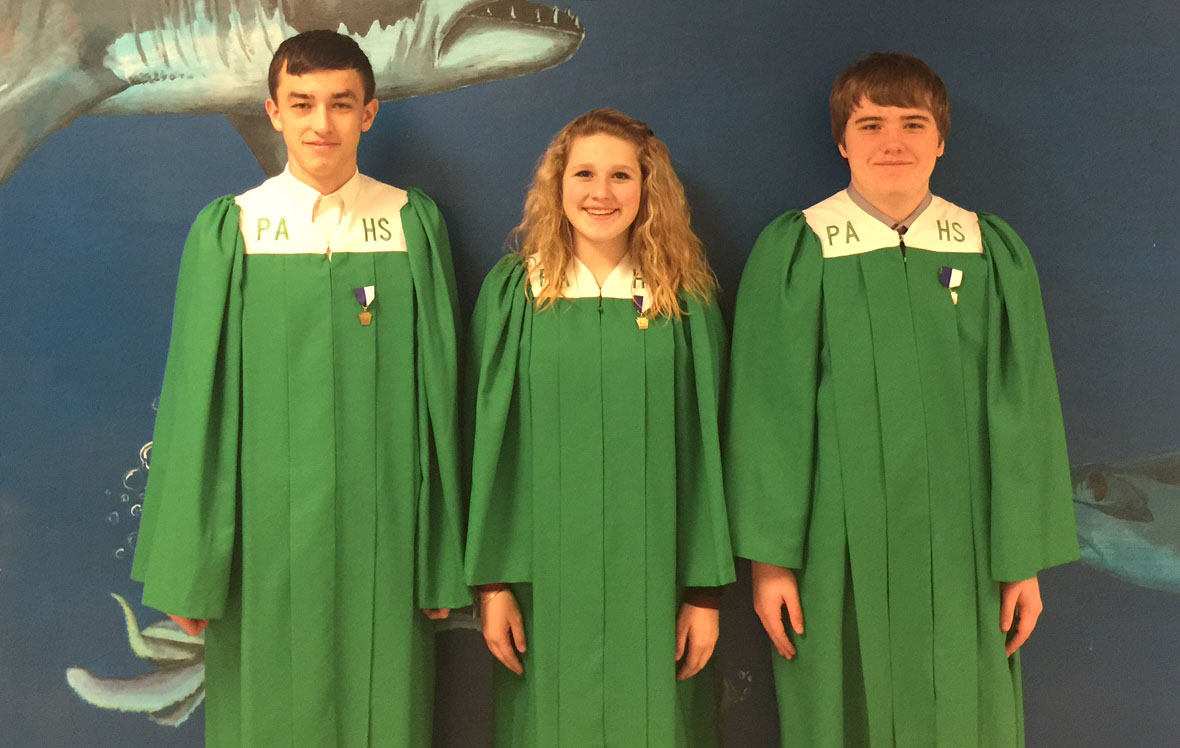 On January 11th through January 13th, Jenna Teno (Alto 1), Austin Noel (Bass 1), and Alex Gageby (Bass 2) participated in the PMEA District 6 chorus festival at Bedford High School. The three students rehearsed two full days under Dr. Mark Mecham, Director of Choral Activities at Lebanon Valley College. The students successfully performed a concert on Friday, Januray 13th which included English, Latin, Maori, and Kenyan songs. Along with participating in the festival, Jenna Teno was selected to perform with PMEA District 6 Vocal Jazz Ensemble at Holidaysburg which will take place on February 2nd through February 4th. Good job to these students!
Would You Like to be a Part of the Career Fair?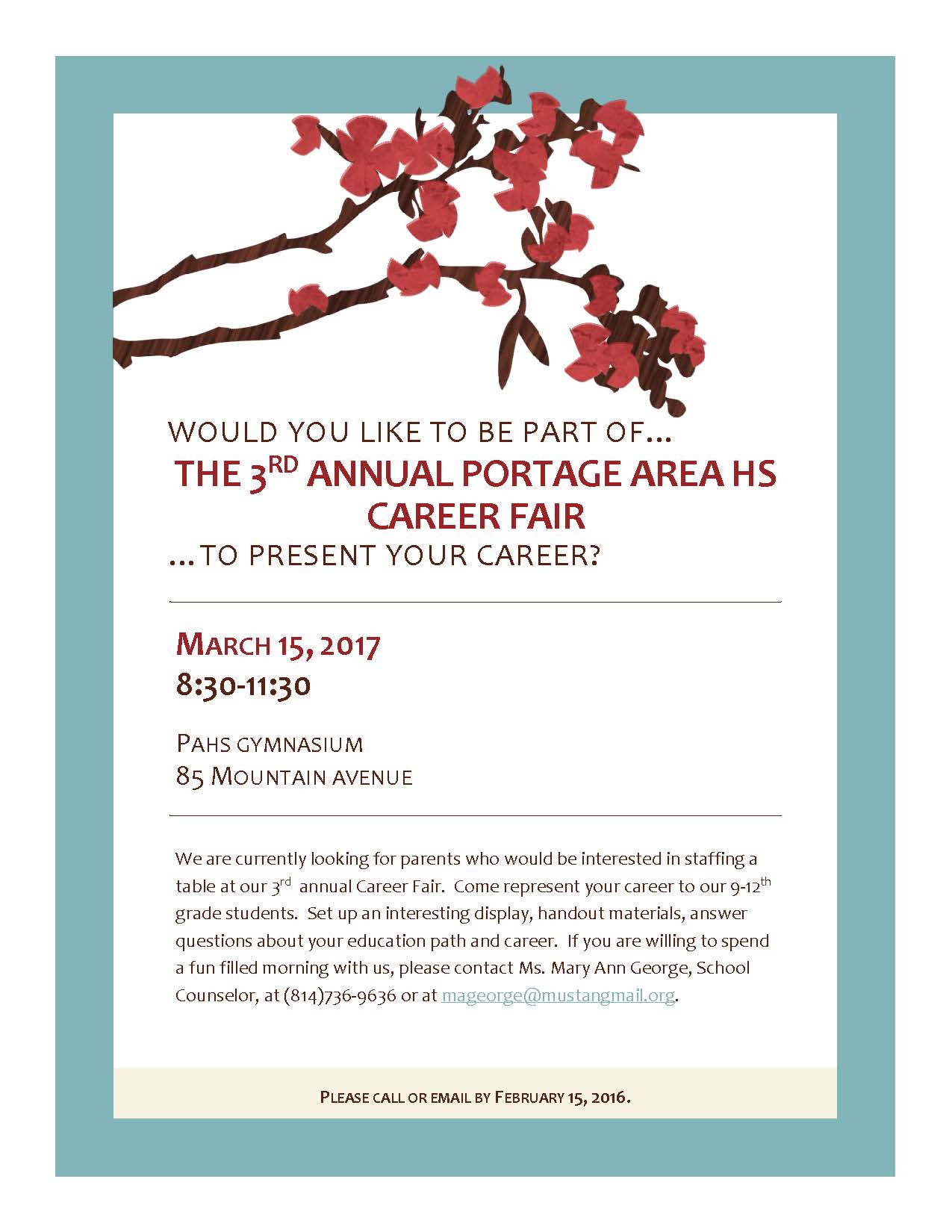 We are currently looking for parents who would be interested in staffing a table at our 3rd annual Career Fair, which will be held from 8:30 A.M. to 11:30 A.M. on March 15. Come represent your career to our 9-12th grade students. Set up an interesting display, handout materials, answer questions about your education path and career. If you are willing to spend a fun filled morning with us, please contact Ms. MaryAnn George, School Counselor, at (814)736-9636 or at mageorge@mustangmail.org. (Flyer)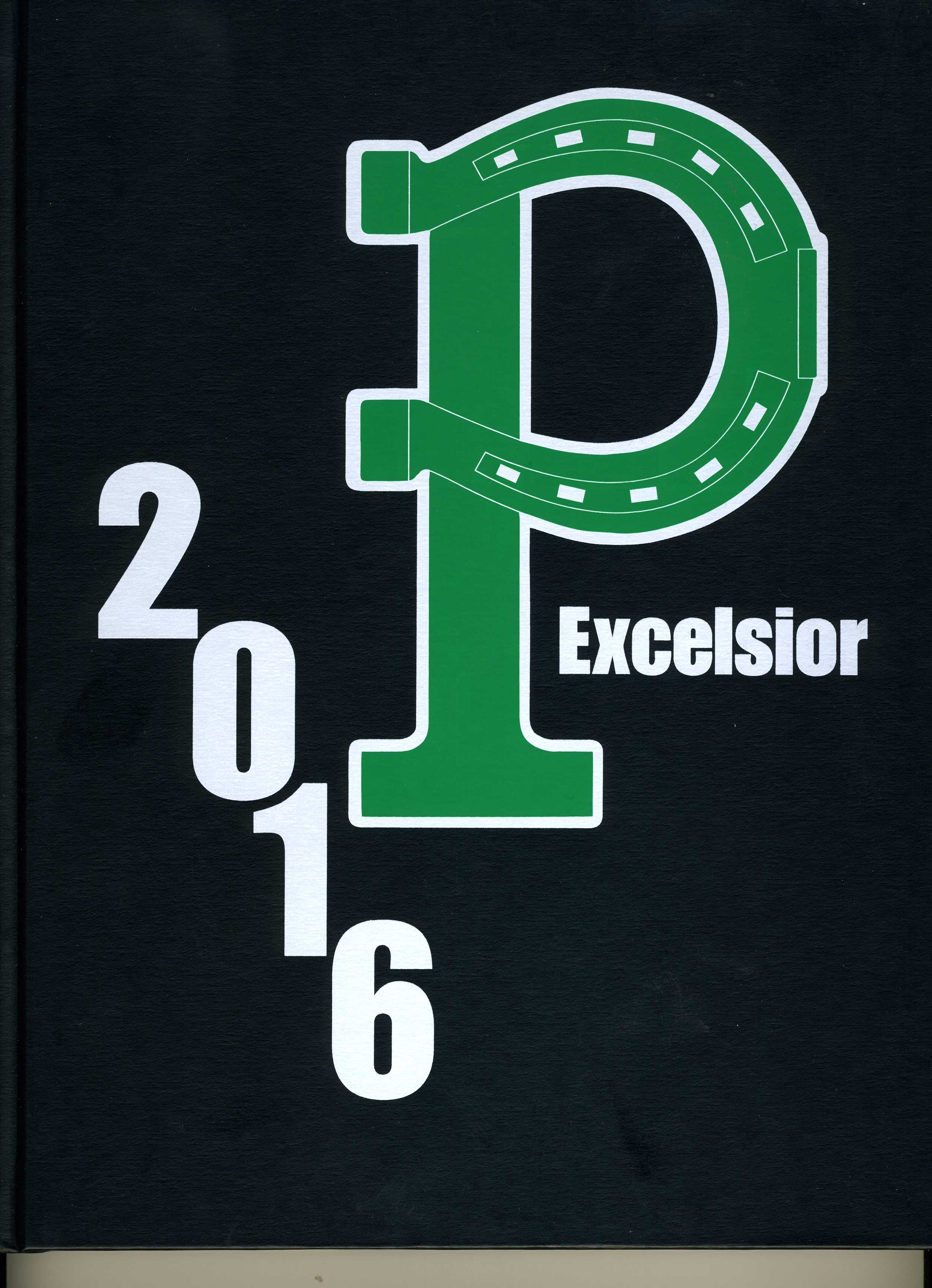 2015-16 Yearbooks Have Arrived
The 2015-2016 yearbooks have arrived and are ready for pick-up and distribution. For any seniors in the class of 2016, your books may be picked up in the high school office. All money owed is due at time of pick-up, no exceptions. (more)