Autism Speaks Fundraiser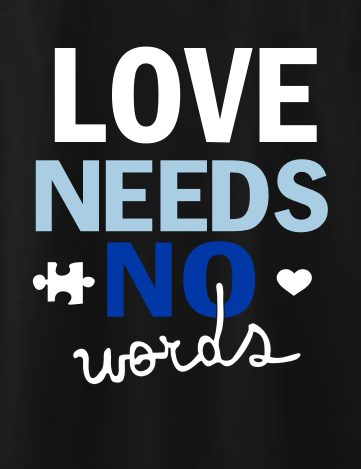 Students at Portage Area School District will be recognizing World Autism Awareness Day for the third year in a row. Every year, autism organizations around the world celebrate the day with unique fundraising and awareness-raising events. At Portage, in addition to classroom activities, the student council sells t-shirts to raise funds for Autism Speaks. On April 2nd, we ask students to show support by wearing those t-shirts in honor of our students and other community members with autism. Students do not have to purchase a t-shirt to participate with the group. It's as easy as wearing any blue shirt that they already own.
Students will be coming home with order forms for this year's t-shirt and hoodie. All orders are due by March 7th. Checks are payable to PAHS.
Thank you so much for your help to promote acceptance for all students in our school.
Enjoying the Springlike Weather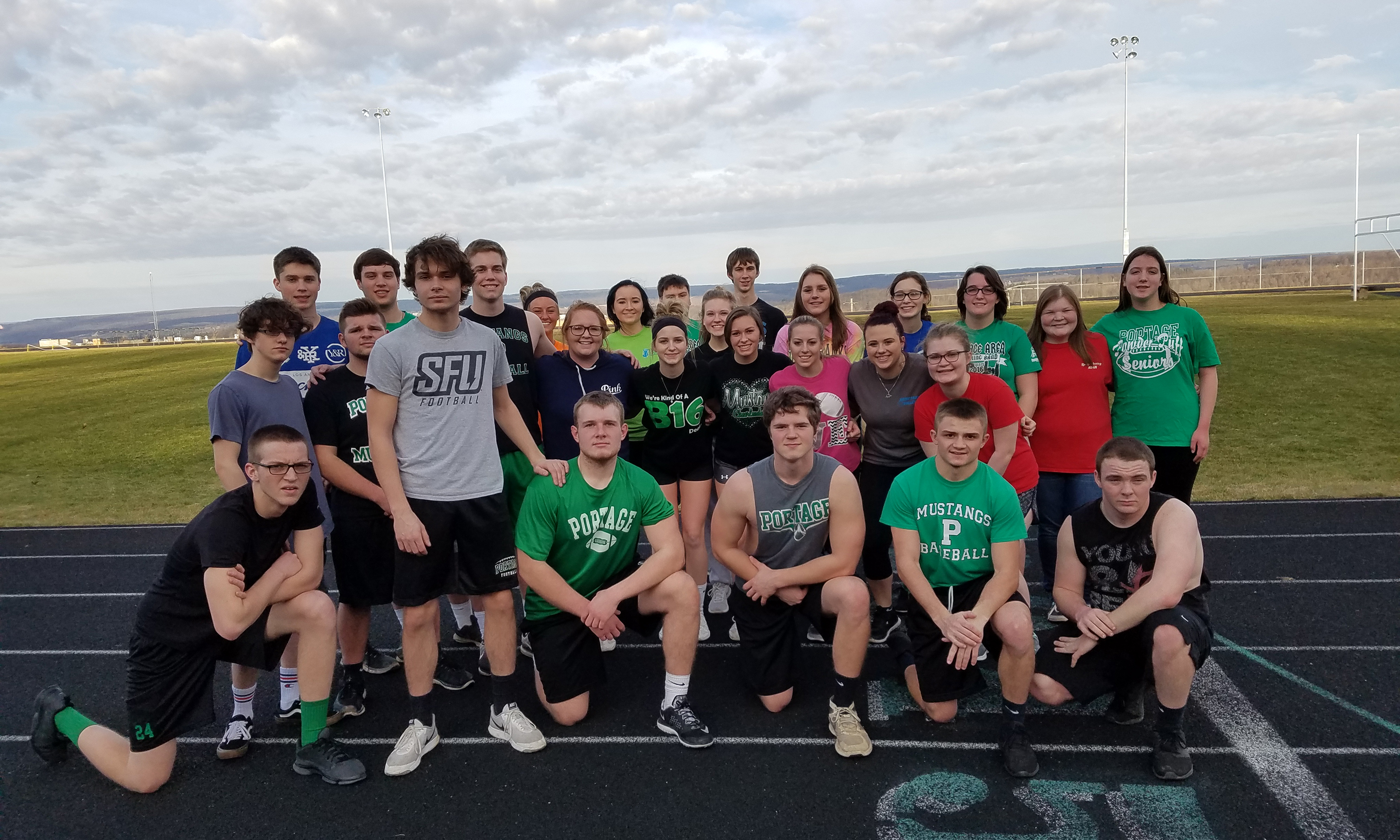 Seniors take advantage of nice February weather to run the mile in PE class.
Parents Who Host, Lose the Most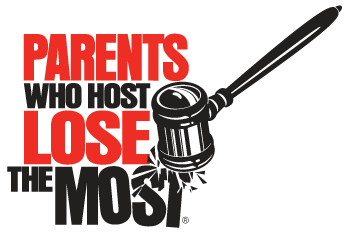 Cambria County Drug & Alcohol along with Remembering ADAM will host the prevention program "Parents Who Host, Lose the Most: Don't be a party to teenage drinking" in the Portage area from March 1 through June 1. This program sends a unified message that teen alcohol usage is unhealthy, unsafe, and unacceptable. The program provides parents and adults with accurate information about the health and safety risks associated with underage drinking and the legal consequences of providing alcohol to minors. Would you be willing to help us collect data on this program? It's easy, just click the link and take the short survey, it will take about 2 minutes. No names are collected, it's completely anonymous. With your help we can begin to create positive change within the Portage community. Only adults over the age of 18 are eligible to take the SURVEY.
Student Artwork Featured in Museum Exhibit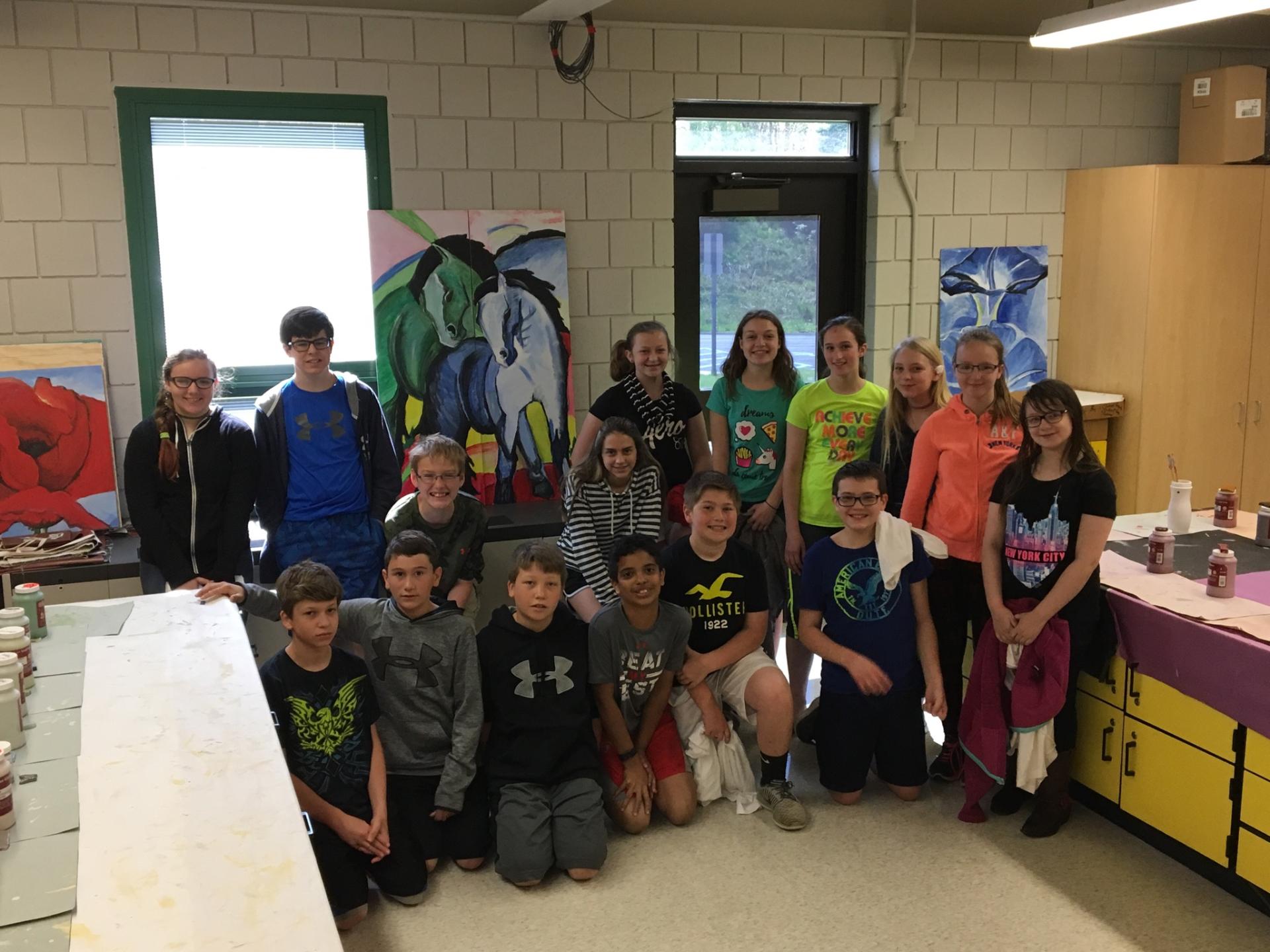 The artwork of 21 elementary Portage students, and 36 grade 7 students will be on display at the Southern Alleghenies Museum of Art (SAMA), located on the campus of St. Francis University in Loretto. A reception for the students, families, and guests will be held on Saturday, February 24th, from 1:00 p.m. until 4:00 p.m. (more)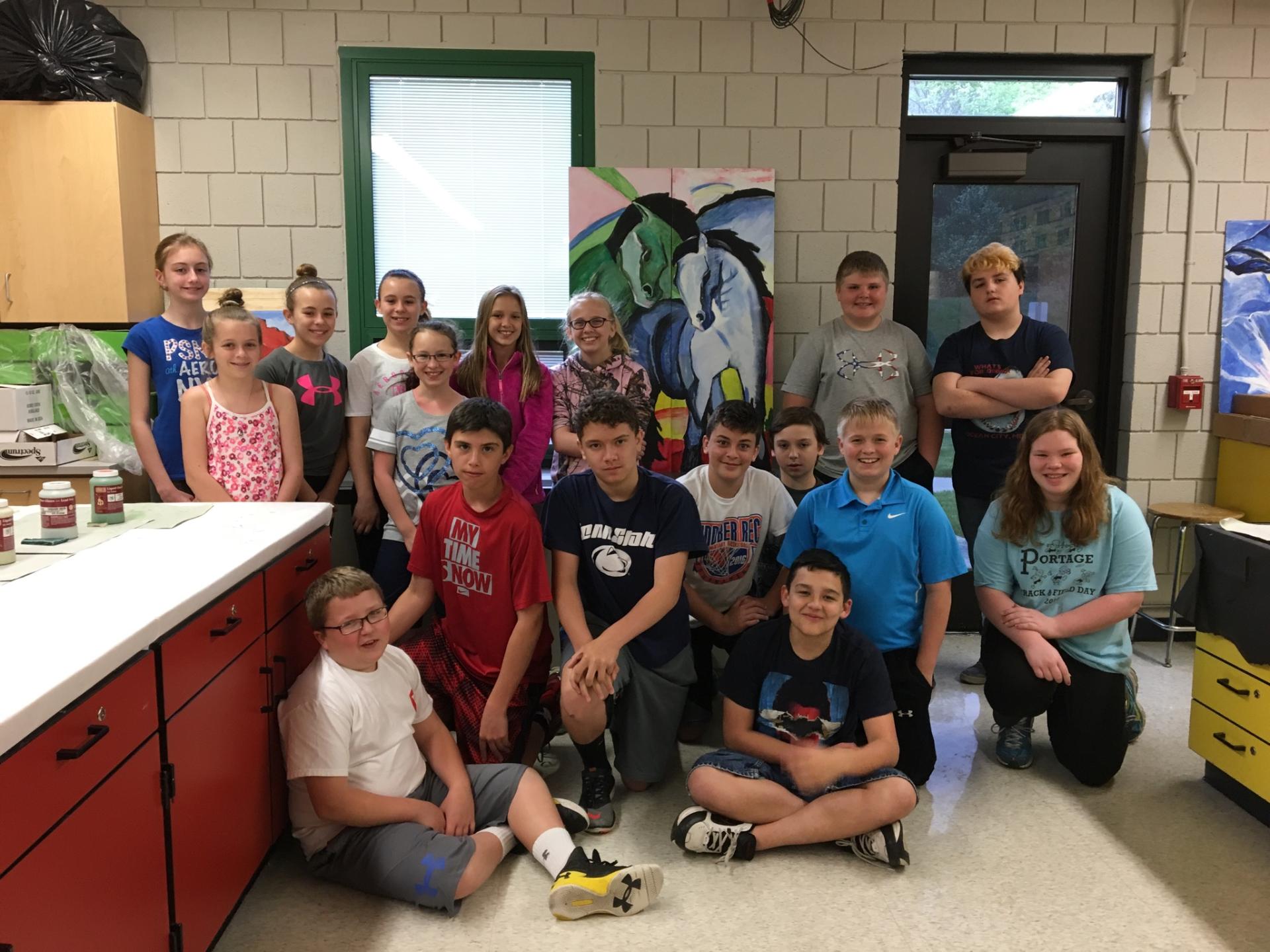 Congratulations to the following students whose artworks will be exhibited:
Grade 6: Camdin Burkett, Ashlyn Cann, Kylee Chappell, Alexandra Chobany, Sierra Crum,
Eliott Nagy, Annabellynn Popish & Jenna Vocco
Grade 5: Kyra Bobolsky, Jazmine Boland, Isaac Geer, Melody Shi, & Haley Watt
Grade 4: Cassidy Burkett & Kyla Sciko
Grade 3: Kendall Bednarski, Esabela F, Riley Learn & Nolan Westover
Grade 1: Haleigh Buck
Kindergarten: Josephine Smith
7th Annual Bunny Dash 5K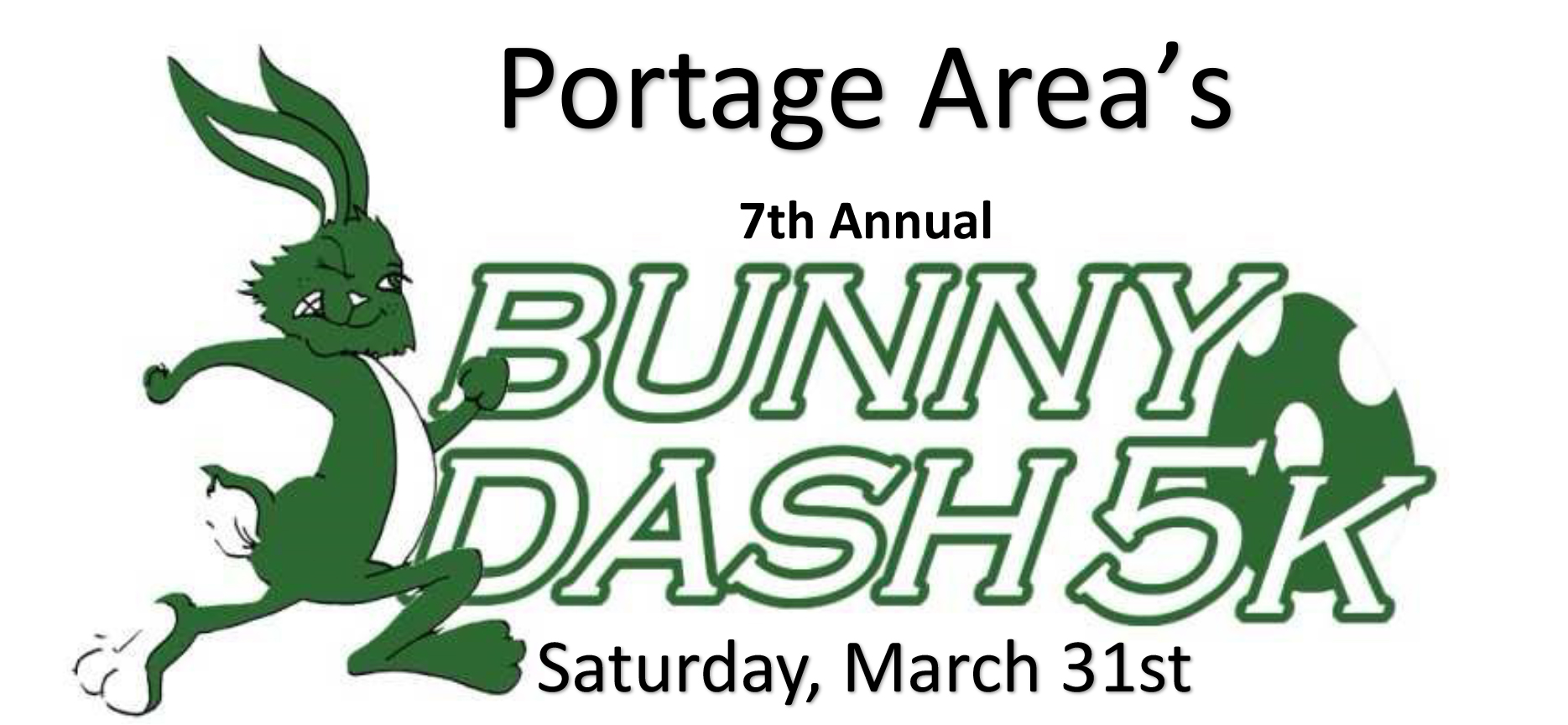 Preparations for this year's Bunny Dash 5k are underway! The Bunny Dash will once again be held Easter weekend, Saturday, March 31, 2018 at 9:00 a.m. New this year is the "Kiddie Dash". The Kiddie Dash is a free event that is open to kids 5 and under (Kindergarten and under) and will begin at 8:30. Click here for a registration form.

Randazzo Continues Football Career at Clarion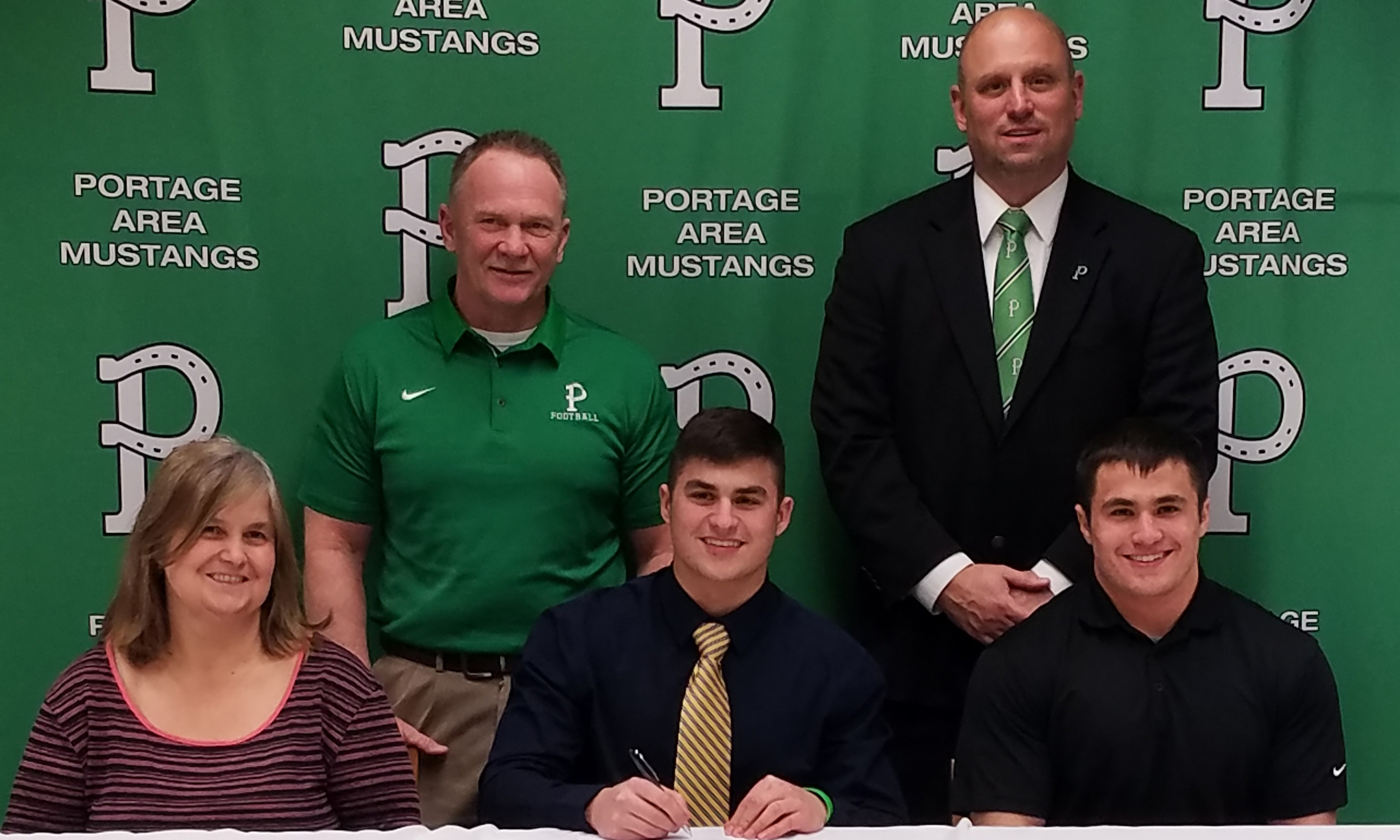 Tom Randazzo has announced his intentions to continue his football career at Clarion University for Head Coach Chris Weibel. Randazzo, a 3-year letter winner and starter as well as senior captain for the Portage Mustangs Football team, has been an integral part of the Mustang squads that have made 4 consecutive district playoff appearances and a 37-11 record. (more)
The Boyfriend Project
January 12th and 13th, the Portage Area High School hosted the Drama Club's production of The Boyfriend Project, a romantic comedy written by James Rayfield. The show entails the adventures of five high school girls trying to change their less-than-perfect boyfriends, through reverse psychology, tact, tricks, compromise, and small electronic parts. In the end however, the audience saw the girls learn the lesson that sometimes it's better to just change your seat in chemistry, than to try and change someone else.
As we begin the third nine weeks, the drama club is excited to announce they've already begun planning their next show. While still not ready to announce what show, the club is already discussing and planning, and should be ready for another exciting theatrical adventure this spring. With that thought, as a reminder to all students, new members (actors, stage crew, or otherwise), are always welcome to join and share the spotlight. Check out this video for some behind the scenes photos of the cast and crew.
Sossong Duo Wins WestPac
Cole Sossong and Corey Sossong (left to right) won WestPac titles in wrestling at the Annual WestPac Individual Tournament. Both wrestlers were able to win their respective weight classes and give Portage two champions out of the 14 weight classes.