Yearbook Discounts Available but Keep an Eye on the Calendar
For a limited time--VERY limited in once instance--students can save a little or a lot on the purchase of the 2015 Excelsior. Students can earn a signficiant discount by selling fundraising items including desserts, appetizers and pizza. For each item sold, students can deduct $5 from the cost of the book. Twelve items sold equals a free yearbook. However, the deadline for placing orders from this fundraiser is this Wednesday, Sept. 17. Fundraiser flyers are available from Mr. Kassick. Students can also receive a discount by ordering their yearbook early--specificially, by Nov. 2. The cost for a yearbook ordered by then is $45. (Fundraiser Incentive Details; Yearbook Order Form)
Summer Tournament & Tour Leave Lasting Impressions

Over the summer the Portage football team traveled to Gettysburg for a 7-on-7 tournament, and the players learned a little history as well. The combination athletic and educational trip was made possible with the help of donations from local businesses and organization by the Portage Football Boosters. While in the historic town, the players undertook an educational journey through the battle grounds, accompanied by two retired Portage history teachers who served as guides. The tour included a visit to the spot where President Abraham Lincoln gave the Gettysburg Address. The tournament contributed to the Mustangs' impressive early season record, and the tour provided the players with a lasting appreciation for one of the nation's most important events.
New Online Gradebook: Patience Now for Payoff Later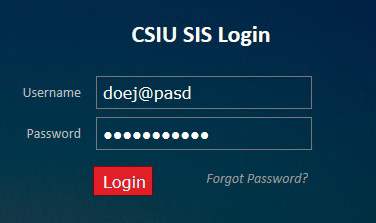 Comparing the district's old gradebook software to its replacement is like comparing, say, a 1968 Volkswagon Beetle to an F-16 fighter jet. An exaggeration (perhaps), but in recent weeks the staff has felt a bit overwhelmed by the transition. Once the program is mastered, however, the payoff will be access to a student records management program promising greater communication between administrators, teachers, students and parents. Grades--available via the internet to students and parents--are starting to trickle into the system as teachers become accustomed to all the software's options. For a link to the gradebook and instructions on registering for an account, click this link or the one permanently at the top of the district's homepage.