Positive cases over the past seven days: 23
Attention: Face masks now mandated in schools.
Please read below for further details.
Updated PASD Health and Safety Plan 2021-2022 School Year
August 31, 2021
Dear Parent/Guardian,
Today, PA Secretary of Health Alison V. Beam issued orders to prevent and control the spread of disease directing that each teacher, child/student, staff, or visitor working, attending, or visiting a School Entity shall wear a face covering indoors, regardless of vaccination status, except under specific instructions. This order shall take effect at 12:01 a.m. on September 7, 2021 and shall remain in effect until otherwise terminated.
School entities are obligated to require and enforce the requirements that all teachers, children/students, staff, and visitors wear a face covering indoors, regardless of whether this order is reflected in a school entity's Health and Safety Plan.
As such, the district's tiered approach for face mask procedures is suspended as of 11:59 p.m. on Sept 6th, 2021.
The orders are available for your review
.
The school district has received numerous questions from students, parents, and staff about a positive test result for COVID-19 and/or contact with someone who has tested positive for the virus.
On May 10th, 2021, the Pennsylvania Department of Health (PA DOH) updated COVID-19 Patient Instructions for Self-Isolation while awaiting Laboratory Results. On July 30th, 2021, the PADOH released additional updated guidance for Testing, Isolation, and Quarantine by vaccination status. This official document is available on the school district's home page.
In an effort to explain these health alerts to the public, we are providing an updated FAQ (9-17-2021)of the procedure students, staff, and the school district will follow in the event someone either has the virus or has been exposed to the virus.
We have also developed a timeline in graphic form to visually represent the periods required for isolation/quarantine if someone tests positive for COVID-19 or has been deemed a close contact.
Thank you for your support during these difficult times. Stay safe and healthy.
Eric A Zelanko, Superintendent
Portage Area School District
Superintendent Weekly Updates

If you have NOT received your P-EBT card for the 2020-21 school year (last school year), please complete this form. All questions must be answered. Information is being forwarded to DHS. Please use the address that your child resided at last school year. Complete a new form for each of your school aged children including last year's graduates (2021).Thank you!
Low-income families still have time to sign up for advance child tax credit payments
It's not too late for low-income families to sign up for advance child tax credit payments.
The IRS urges anyone who normally isn't required to file a tax return to explore the tools available on IRS.gov. The Eligibility Assistant can help determine eligibility for the advance child tax credit. The Non-filer Sign-up tool can help people file a simplified tax return to sign up for these payments. Some non-filers may also be eligible for the $1,400 per person Economic Impact Payments and the recovery rebate credit. People can get these benefits, even if they don't work, have no income or don't have a permanent address.
For these families, each advance CTC payment is up to $300 per month for each qualifying child under age 6 and up to $250 per month for each child ages 6 through 17.
Payments are generally issued on the 15th of each month through December 2021.
Here are more details and information about how to get the payments:
• The IRS sends advance child tax credit payments to eligible families who filed a 2019 or 2020 income tax return. This includes people who successfully use the Non-filer Sign-up tool for advance CTC, available only on IRS.gov. People can access the Non-filer Sign-up tool or the step-by-step guide for using it on IRS.gov.
• Aside from filing a simplified return from the Non-filer Sign-up tool, families don't have to do anything else if they are eligible to receive monthly payments.
• The Non-filer Sign-up tool is available until October 15, 2021. Using the tool by 11:59 p.m. ET on any month's deadline will apply to the next month's payment.

• Families who receive their first monthly payment in any month after July will still receive their total advance payment for the year. This means that the total payment will be spread over fewer months, rather than six months, making each monthly payment larger.

• The IRS encourages people to request payments by direct deposit, which is faster and more secure than other payment methods. People who don't have a bank account should visit the Federal Deposit Insurance Corporation website for details on opening an account online. They can also use the FDIC's BankFind tool to locate an FDIC-insured bank.
• Finally, BankOn, American Bankers Association, Independent Community Bankers of America and National Credit Union Administration have lists of banks and credit unions that can open an account online. Veterans can see the Veterans Benefits Banking Program for financial services at participating banks.
Share this tip on social media -- #IRSTaxTip: Low-income families still have time to sign up for advance child tax credit payments https://go.usa.gov/xFzab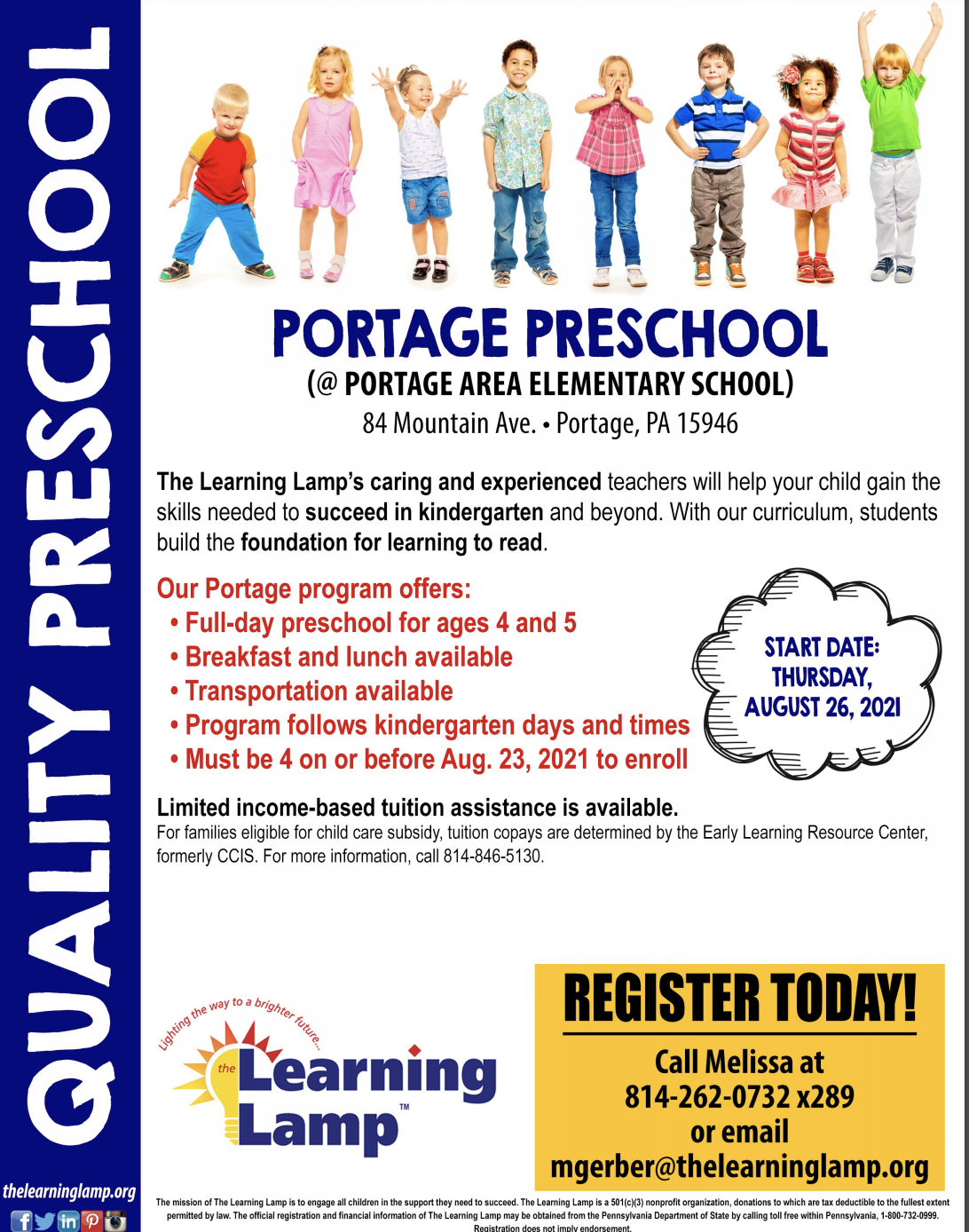 For more information please contact:
Melissa Gerber
Preschool Program Manager
The Learning Lamp
814-262-0732 ext.289
mgerber@thelearninglamp.org