Please note: The PASD School Board Meeting location has been moved to the ES Library for Wednesday, May 11, 2022.
The Second Grade classes constructed a zoo with 10 full exhibits out of recycled items. See the Tribune Democrat Article for more details.
Jackie from Cambria County Conservation District visited third grade again on Friday. The students learned about bears in Pennsylvania. They learned about the types of bears in Pennsylvania, where they live, what they eat, among many other facts. The students participated in a game where the "mom bears" and "cubs" had to find each other based on their scent, just like they do in the wild. Each student was given a cotton ball with a scent on it. Then they had to match their scents to find each other. After that activity, students had to search for food as bears would do in the wild. They each had to ensure they found water and enough food to survive. Once they found their food sources, they had to add up the numbers to determine if they found enough food to survive. Through this activity the students learned that if there are more bears in a certain area, it is harder to find food and survive. The students had a fabulous time and learned a lot through this presentation
LOCAL GRADUATION REQUIREMENTS
Obtain a minimum 24 units of credit
NON-VO TECH STUDENTS
Required credits obtained in Grades 9-12, are as follows: English – 4 credits; Social Studies – 4 credits; 7 Total Credits in Math & Science (Math minimum – 3 credits; Science minimum – 3 credits); Health & Physical Education – 1 credit; Driver Education - .25 credit; and the remaining credits will consist of electives to add up to at least 24
VO TECH STUDENTS
Required credits obtained in Grades 9-12, are as follows: English – 4 credits; Social Studies – 3 credits; 6 Total Credits in Math & Science (Math minimum – 3 credits; Science minimum – 3 credits); Health & Physical Education – 1 credit; Driver Education - .25 credit; and 3-9 Vo Tech credits and electives to add to at least 24.
Students graduating in 2023 and beyond have the following five options to meet the statewide graduation requirement. Options 1 and 2 are the Keystone Pathways (Keystone Proficiency and Keystone Composite). Option 3 is the Alternate Assessment Pathways. Option 4 is the Evidence Based Pathway. Finally, Option 5 is the CTE Pathway. Explanations of each pathway can be found on the graphic.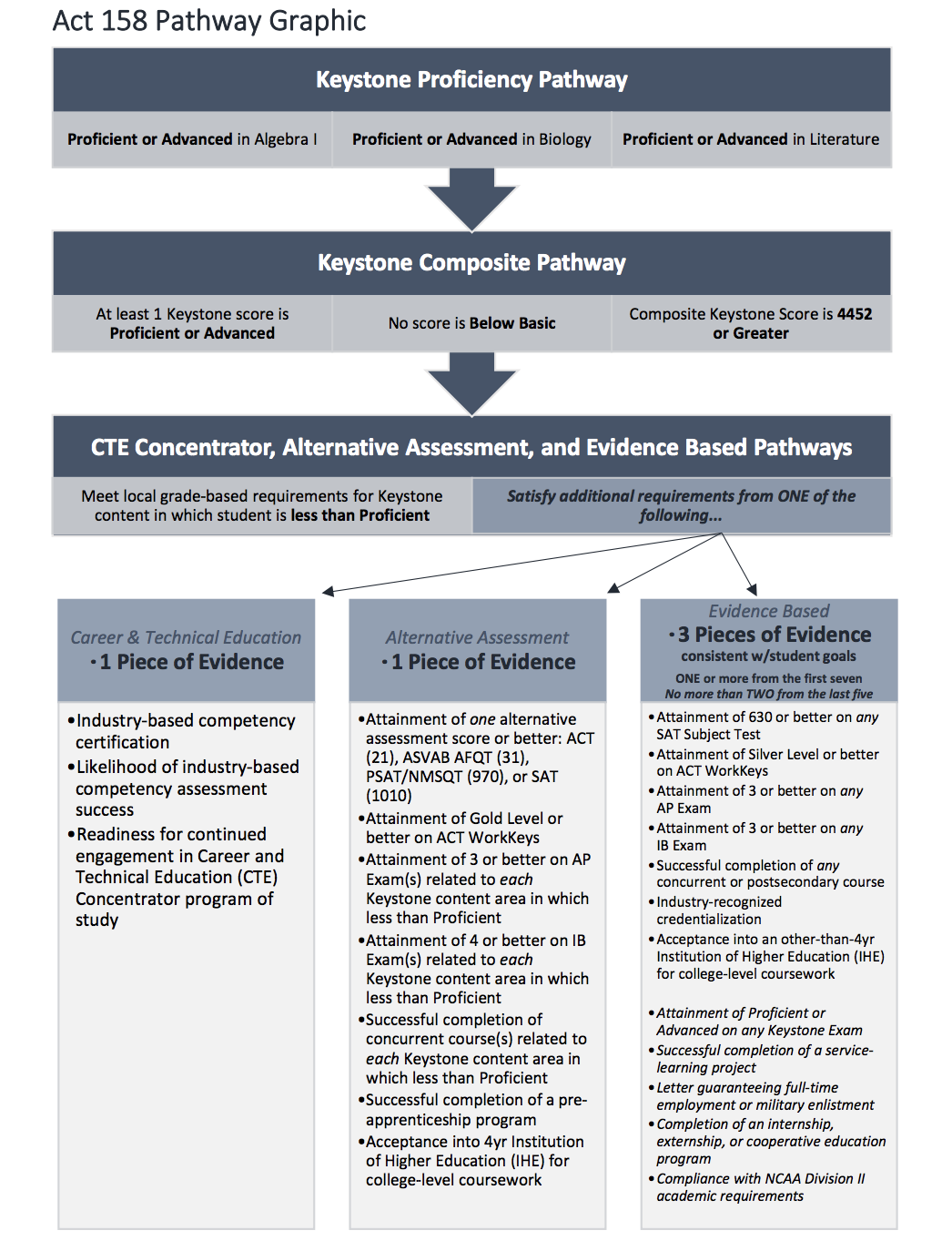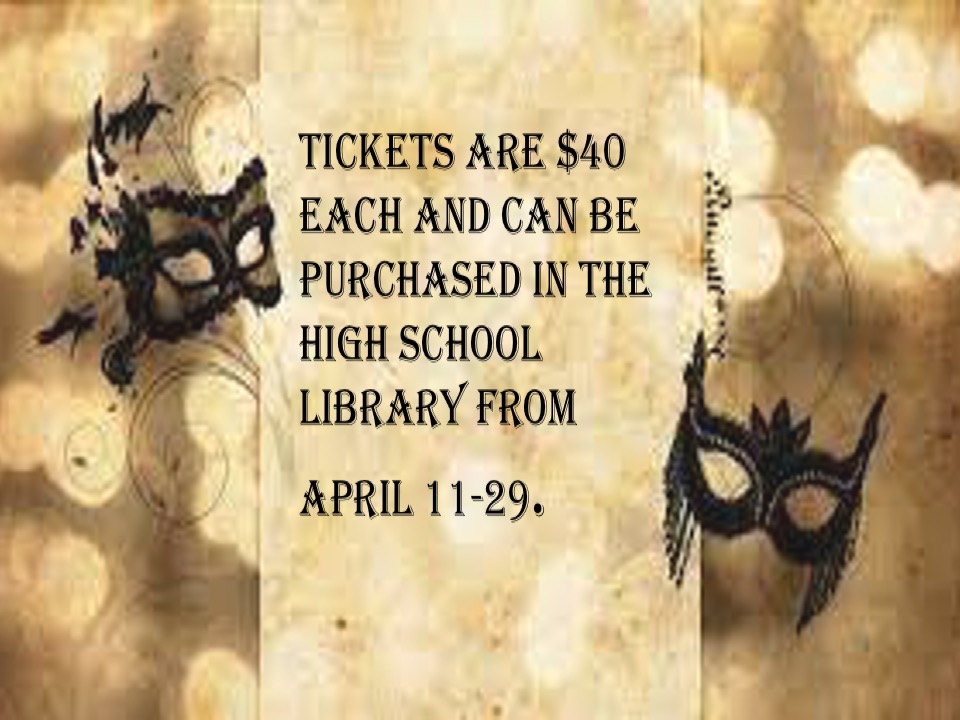 "Midnight Masquerade"
May 13, 2022
Grand Ballroom- Lakemont Casino
300 Lakemont Park Blvd
Altoona, PA 1660
2:45 PM – 4:15 PM Prom Pictures in high school cafeteria
4:15 PM (approx.) Promenade in high school auditorium
5:00 PM Doors open at the Casino
5:30 PM Check in at the Casino completed
5:45 PM Dinner followed by dancing and photo booth
9:30 PM Crowning
If you have received and activated your P-EBT card for the 2020-21 school year (last school year), please contact Mrs. George at: mageorge@mustangmail.org or X1311 Thank you!
Low-income families still have time to sign up for advance child tax credit payments
It's not too late for low-income families to sign up for advance child tax credit payments.
The IRS urges anyone who normally isn't required to file a tax return to explore the tools available on IRS.gov. The Eligibility Assistant can help determine eligibility for the advance child tax credit. The Non-filer Sign-up tool can help people file a simplified tax return to sign up for these payments. Some non-filers may also be eligible for the $1,400 per person Economic Impact Payments and the recovery rebate credit. People can get these benefits, even if they don't work, have no income or don't have a permanent address.
For these families, each advance CTC payment is up to $300 per month for each qualifying child under age 6 and up to $250 per month for each child ages 6 through 17.
Payments are generally issued on the 15th of each month through December 2021.
Here are more details and information about how to get the payments:
• The IRS sends advance child tax credit payments to eligible families who filed a 2019 or 2020 income tax return. This includes people who successfully use the Non-filer Sign-up tool for advance CTC, available only on IRS.gov. People can access the Non-filer Sign-up tool or the step-by-step guide for using it on IRS.gov.
• Aside from filing a simplified return from the Non-filer Sign-up tool, families don't have to do anything else if they are eligible to receive monthly payments.
• The Non-filer Sign-up tool is available until October 15, 2021. Using the tool by 11:59 p.m. ET on any month's deadline will apply to the next month's payment.

• Families who receive their first monthly payment in any month after July will still receive their total advance payment for the year. This means that the total payment will be spread over fewer months, rather than six months, making each monthly payment larger.

• The IRS encourages people to request payments by direct deposit, which is faster and more secure than other payment methods. People who don't have a bank account should visit the Federal Deposit Insurance Corporation website for details on opening an account online. They can also use the FDIC's BankFind tool to locate an FDIC-insured bank.
• Finally, BankOn, American Bankers Association, Independent Community Bankers of America and National Credit Union Administration have lists of banks and credit unions that can open an account online. Veterans can see the Veterans Benefits Banking Program for financial services at participating banks.
Share this tip on social media -- #IRSTaxTip: Low-income families still have time to sign up for advance child tax credit payments https://go.usa.gov/xFzab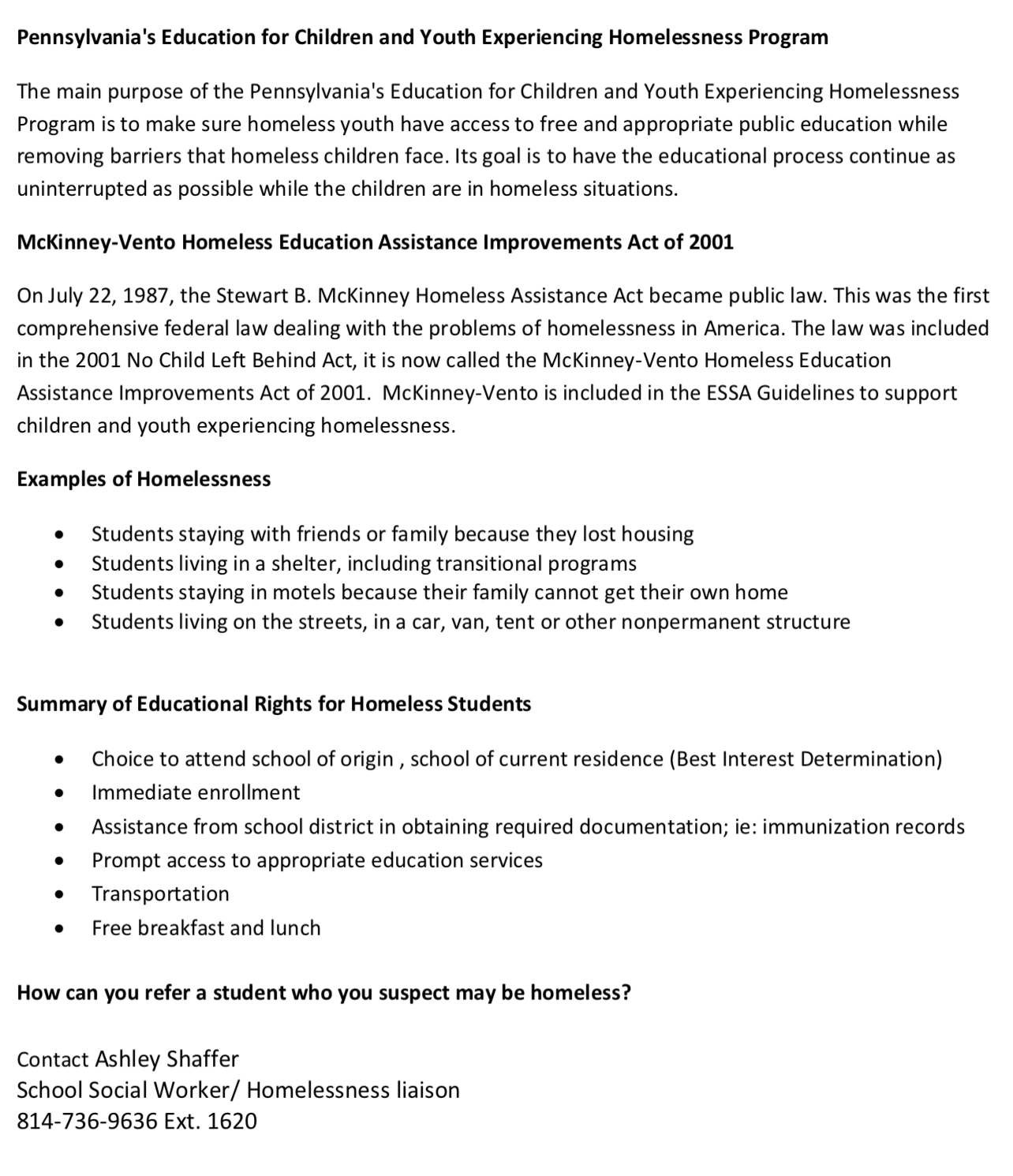 Emergency Broadband Benefit
The Emergency Broadband Benefit (EBB) is a temporary subsidy program from the Federal Government designed to help low-income households connect to the Internet and stay connected during the COVID-19 crisis. Qualified households can receive a temporary monthly credit of up to $50/month (up to $75/month for customers in Tribal lands) toward their Internet service and leased Internet equipment until the program's funding runs out.
Link: https://www.xfinity.com/learn/internet-service/ebb
Internet Essentials

Low-cost, high-speed Internet access for qualified households.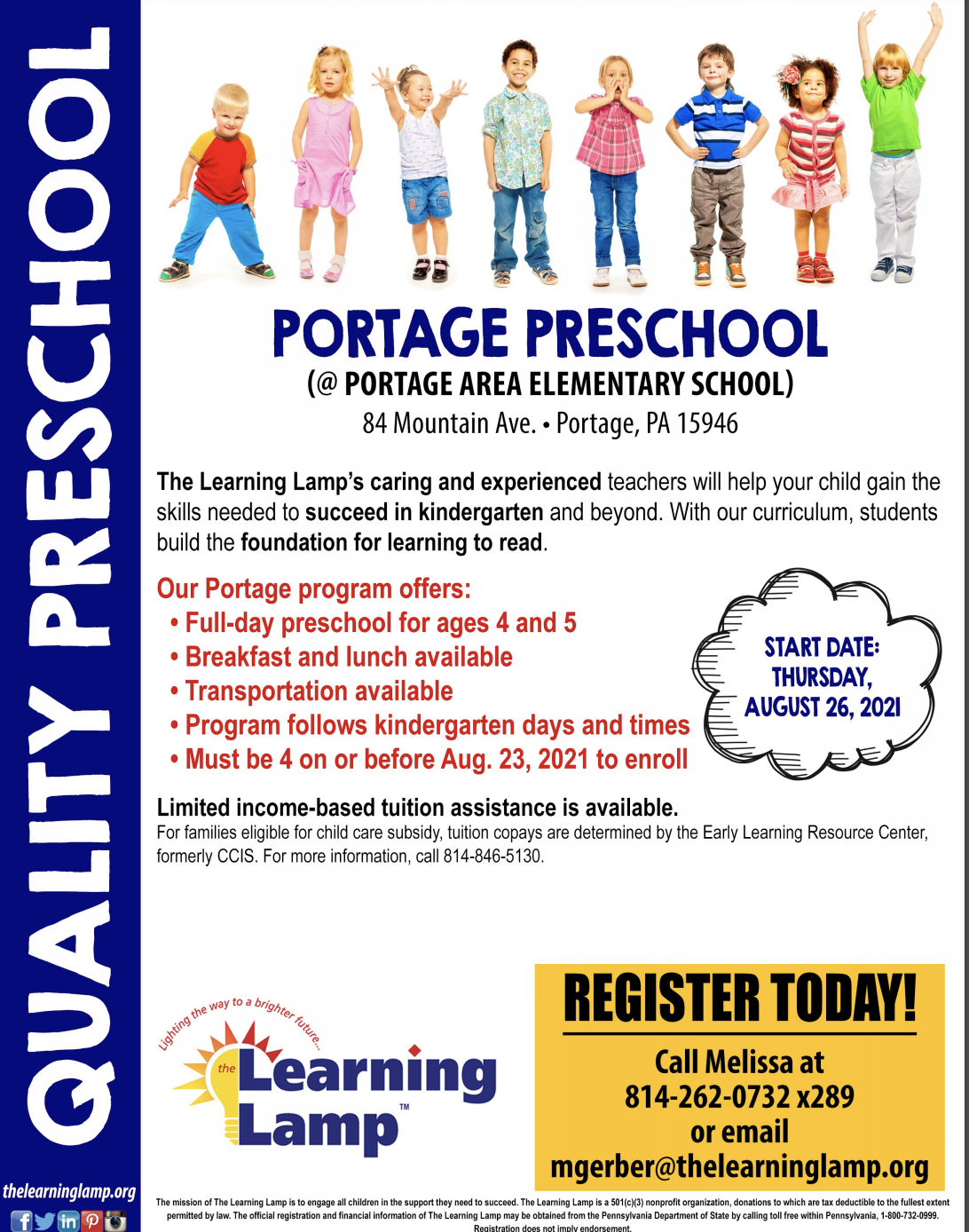 For more information please contact:
Melissa Gerber
Preschool Program Manager
The Learning Lamp
814-262-0732 ext.289
mgerber@thelearninglamp.org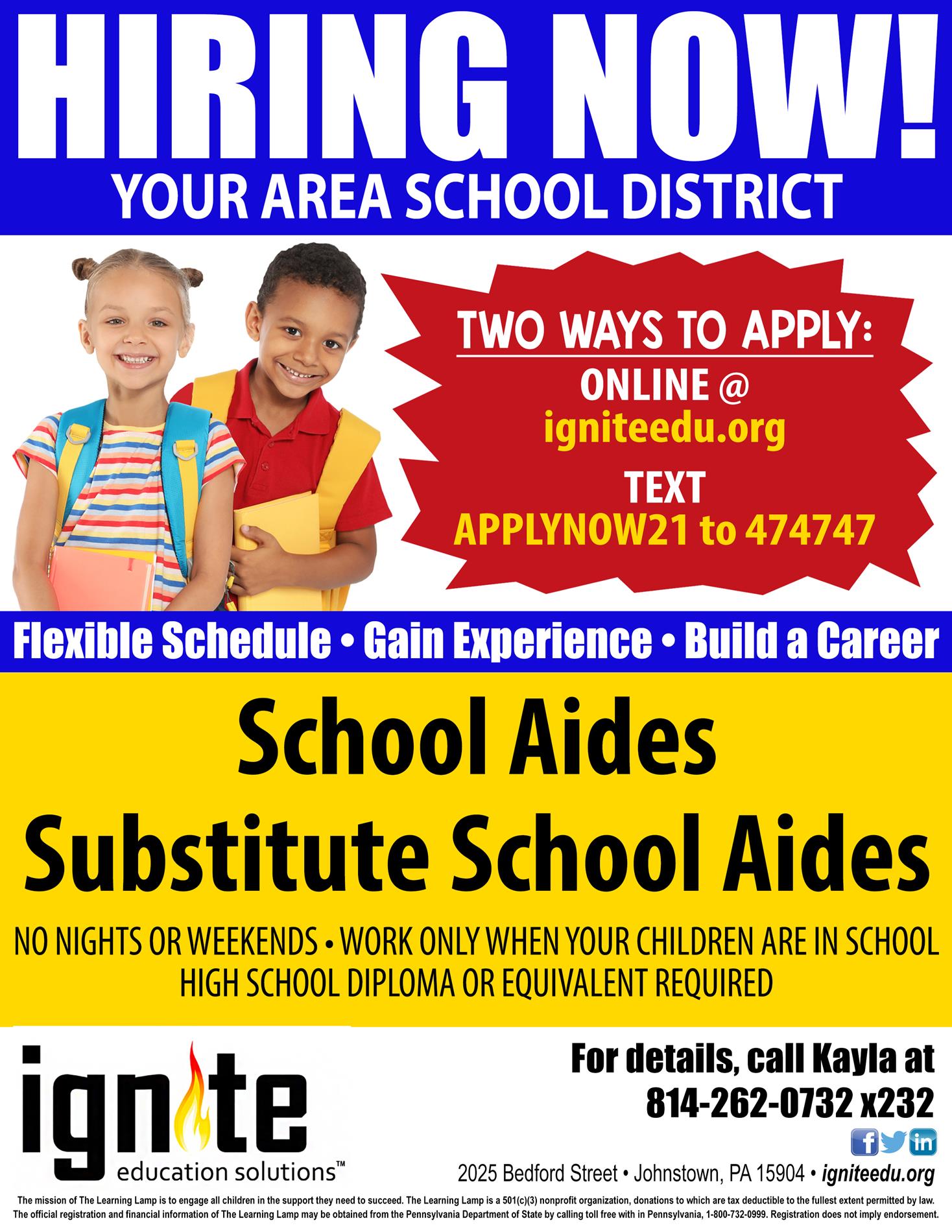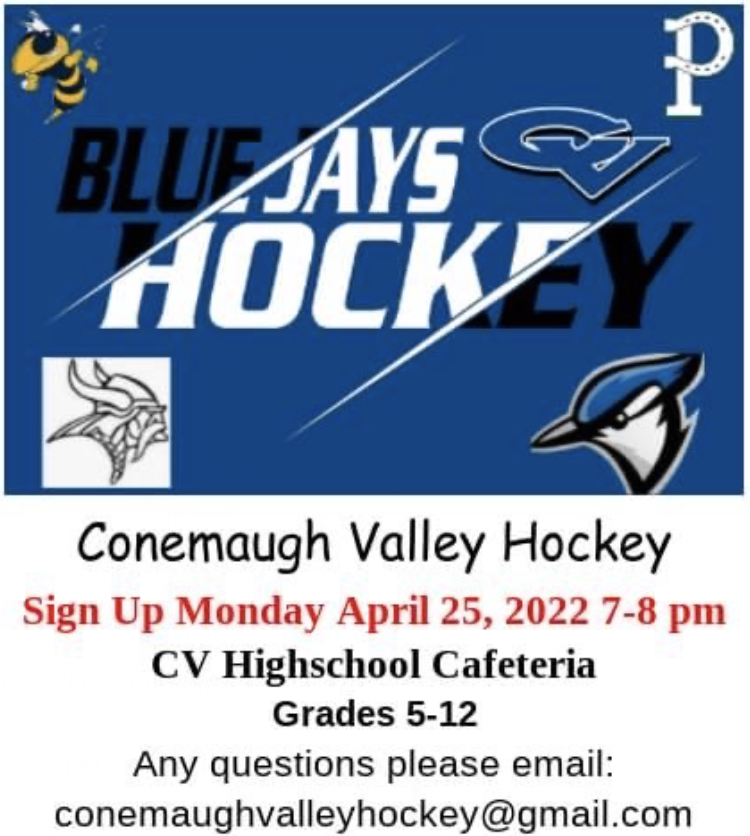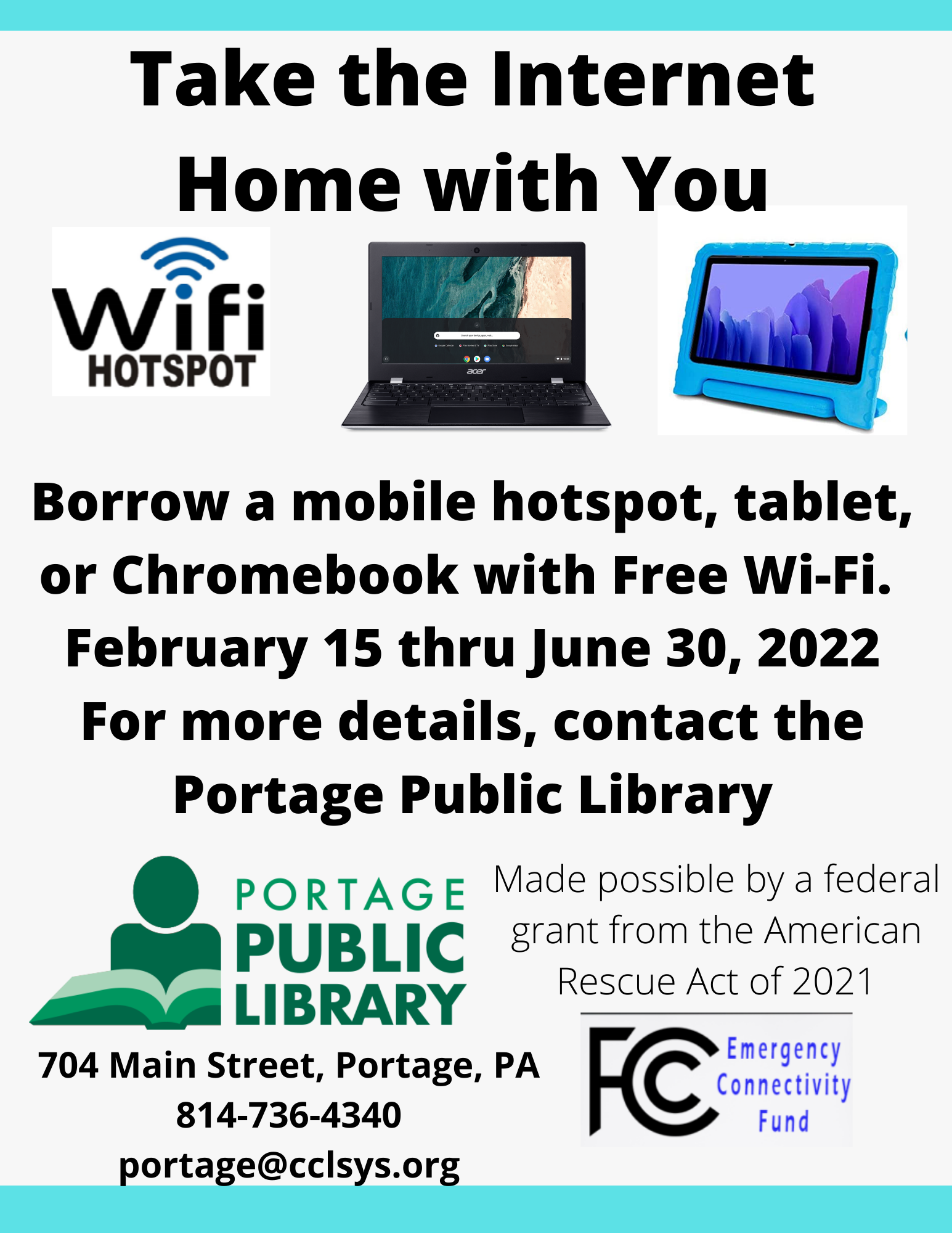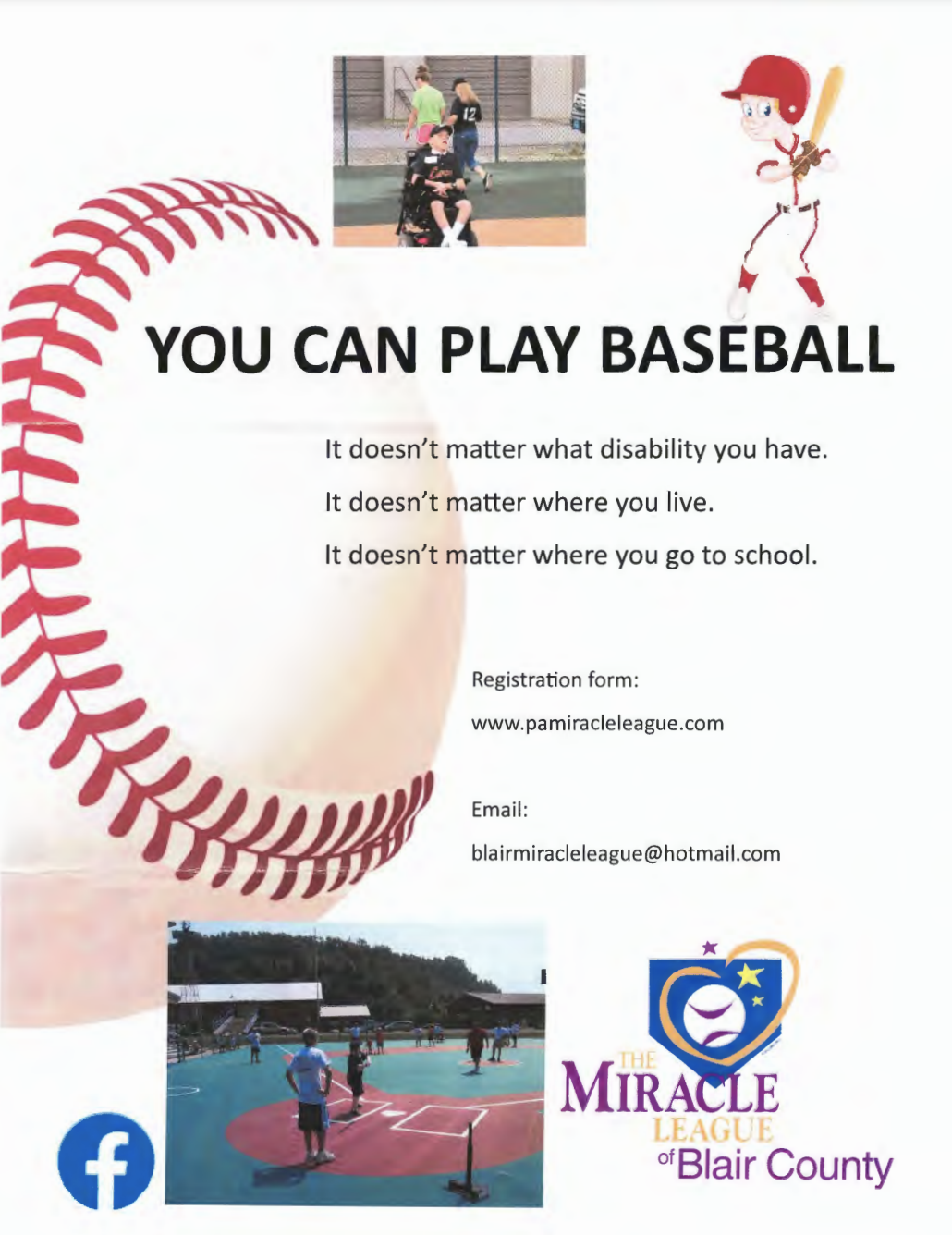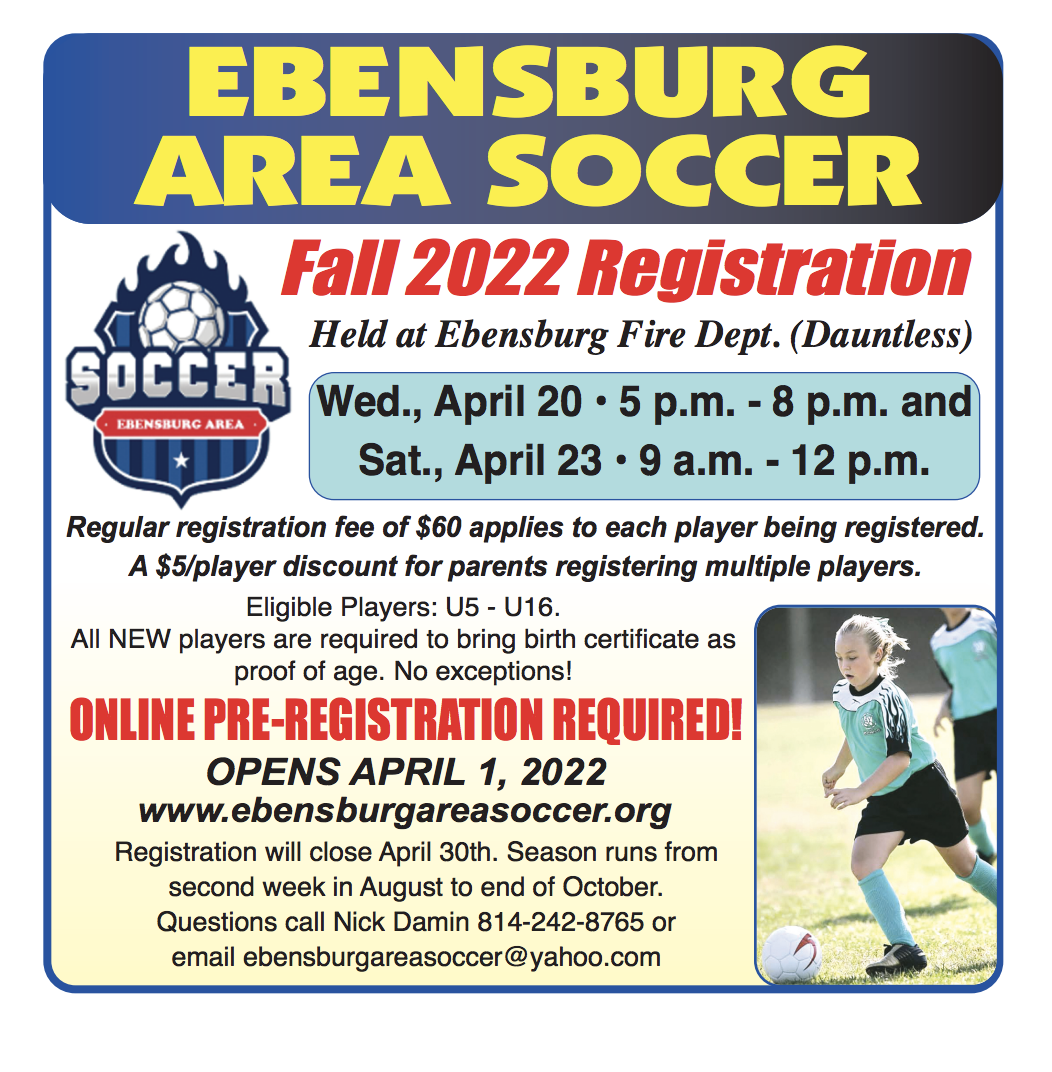 PA Latest Updates on COVID-19
Isolation and Quarantine Periods *Updated 12-30-2021
Updated PASD Health and Safety Plan 2021-2022 School Year
School-based Covid Testing Consent Form for Minors
If your child has been deemed a "close contact" for a COVID-19 exposure at school, they may still attend school if asymptomatic, wear a mask, and do testing as per the district's test-to-stay program. To help children/parents with access to rapid testing, the district participates in the State's free testing program which allows for students to be rapid tested at the school at no charge. In order for a child to be tested, a parent or guardian MUST complete the on-line consent form. No student will be tested without the consent of a parent/guardian. The consent form can be found at https://testcenter.concentricbyginkgo.com/minor-consent The access code for a HS aged student is PAHSCONSENT; the ES code is PAESCONSENT
This COVID-19 testing program also provides the opportunity to participate in weekly pooled testing if desired.
Dec 3, 2021
Test-to-Stay Program
Over the past year and a half, the number of students and staff placed in quarantine has been tremendous. Both parties have been forced to participate in remote learning while enduring the quarantine period even though they remained healthy. While a valiant attempt by everyone to maintain education during challenging times, the school district recognizes remote learning is not in anyone's best interests.
Recent statements from CDC indicate "Test-to-Stay" strategies, when combined with regular mitigation measures, as a promising practice for minimizing the disruption of quarantine on students, families, and schools while maintaining a safe and healthy learning environment. Based on the CDC statements, the PA DOH has issued preliminary guidance for school leaders who wish to adopt test-to-stay in their schools.
Beginning Monday, December 6, 2021, The Portage Area School District will implement a Test-to-Stay (TTS) program. Individuals deemed close contacts of an exposure to the virus can continue in-person learning so long as they wear a face covering in schools, remain asymptomatic, and serially test negative for COVID-19 during what would be the quarantine time.
After being deemed a close contact, individuals who wish to avoid quarantine and remain with in-person learning must:
Remain asymptomatic;
Wear a face covering while in school buildings;
Be tested for the virus within 2-4 days of the exposure;
Be re-tested for the virus within 5-7 days of the exposure. (test 1 and 2 cannot be administered on consecutive days)
The following test results will be considered eligible to fulfill the testing requirements of the TTS program:
Rapid antigen tests administered on-site through the district's testing program. Parents/guardians of students and individual staff members who choose to enroll in the TTS program and be tested in-school must actively consent to testing conducted for the program.
Rapid antigen tests administered through a health care provider
As per CDC and PA DOH, at-home tests are not eligible for meeting testing requirements for participation in the district's TTS program
If an individual test positive or becomes symptomatic at any point during the TTS program, they should immediately isolate. Symptomatic individuals will no longer be eligible to participate in TTS and must quarantine as per CDC recommended protocols.
The TTS program is only intended for school-based exposures. Individuals who were exposed to COVID-19 in non-school settings (e.g., household exposure) are not eligible for TTS under any circumstances and should continue to follow the latest quarantine protocol.
TTS may not be an appropriate strategy for all individuals. Parents/guardians and individual staff members may elect to NOT participate in TTS, and instead follow the normal CDC recommended protocol for exposure.
Please note that the TTS program guidelines are subject to change, or be rescinded, as additional data become available. The school district will follow guidance as provided by CDC and/or PA DOH.
Eric Zelanko, Superintendent
Portage Area School District
84 Mountain Ave.
Portage, PA 15946
(814) 736-9636 ext 1560