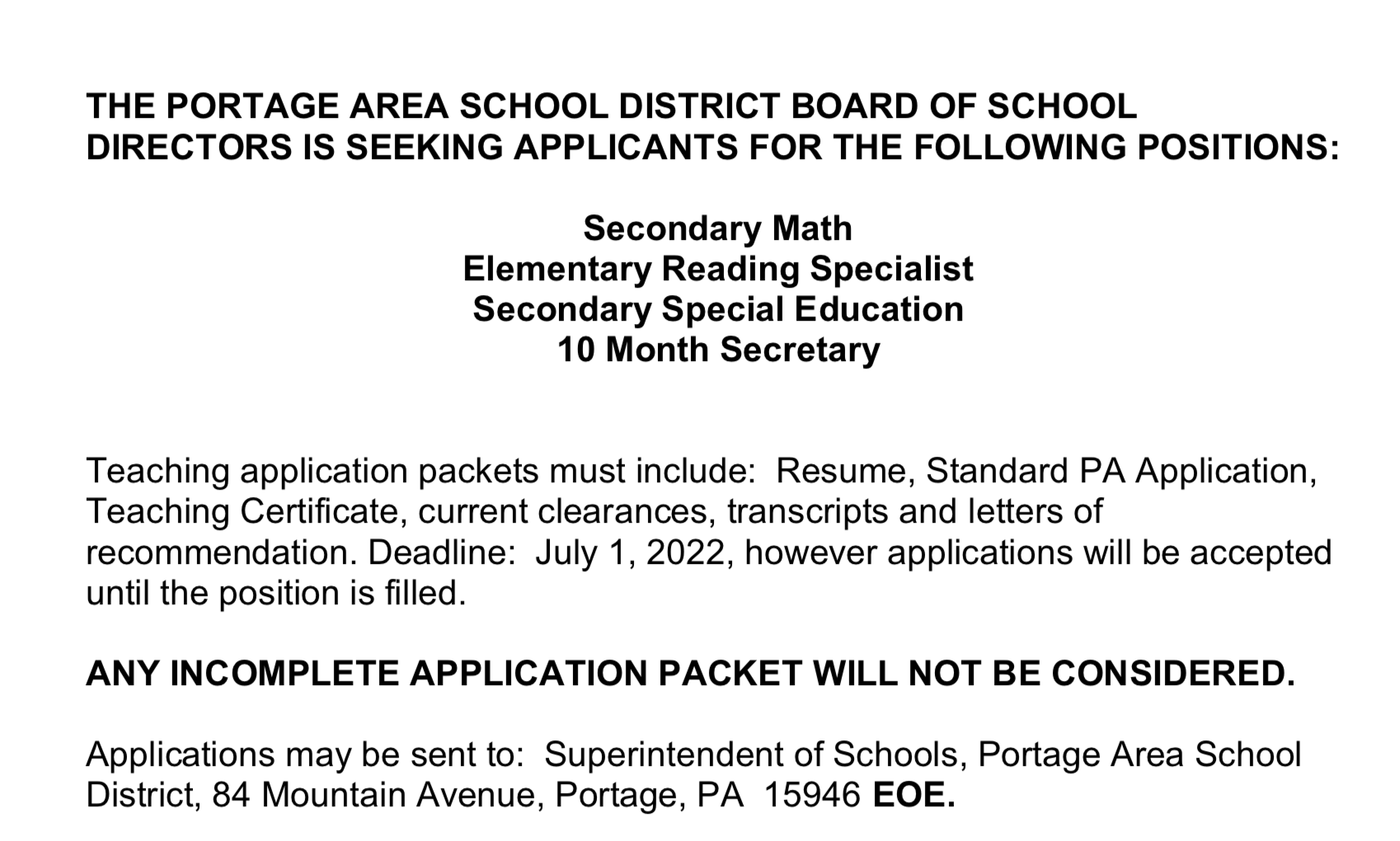 Portage Area School District ATSI Plan Review
Portage Area JR/SR High School's ATSI plan is hereby posted on Thursday, May 12, 2022 for public review. The plan addresses areas of need in the JR/SR High School. Questions or comments about the plan should be directed to Mr. Ralph Cecere, building principal at 814-736-9636, Ext 1300.
Portage Area School District Special Education Plan The
Portage Area School District's Special Education plan is hereby posted on Friday, May 27, 2022 for public review. Questions or comments about the plan should be directed to Mr. Pete Noel, Director of Special Education at 814-736-9636, Ext 1610.
Class of 2022 Graduation Ceremony
Kindergarten Graduation 2022
The Affordable Connectivity Program (ACP)
The Affordable Connectivity Program (ACP), provides eligible households $30 per month off their internet bills through participating companies. Twenty leading internet providers, including United Way partners Comcast, AT&T, and Verizon, are participating in the program and offering ACP-eligible households a high-speed internet plan for no more than $30 per month. If eligible families pair their ACP benefit with one of these internet plans, they have the ability to receive high-speed internet at no cost.
There are three different ways to qualify for the ACP benefits, and households are eligible if they meet any one of the three qualifications below:
(1) Their income is at or below 200% of the Federal Poverty Guidelines; (2) they meet the eligibility requirements for a participating broadband providers existing low-income internet program; (3) or someone in the household participates in one of the following programs:
· Supplemental Nutrition Assistance Program (SNAP), formerly known as Food Stamps
· Medicaid
· Special Supplemental Nutrition Program for Women, Infants, and Children (WIC)
· Supplemental Security Income (SSI)
· Federal Public Housing Assistance (FPHA)
· Veterans Pension and Survivors Benefit
· Free and Reduced-Price School Lunch Program or School Breakfast Program, including at U.S. Department of Agriculture (USDA) Community Eligibility Provision schools – ALL PASD are eligible for this program because we are a CEP district
· Federal Pell Grant (received in the current award year)
· Lifeline
· Certain Tribal assistance programs, including Bureau of Indian Affairs General Assistance, Head Start (only households meeting the income qualifying standard), Tribal Temporary Assistance for Needy Families (Tribal TANF), and Food Distribution Program on Indian Reservations
Signing up is easy and can be done online, by mail, or through a service provider.
LOCAL GRADUATION REQUIREMENTS
Obtain a minimum 24 units of credit
NON-VO TECH STUDENTS
Required credits obtained in Grades 9-12, are as follows: English – 4 credits; Social Studies – 4 credits; 7 Total Credits in Math & Science (Math minimum – 3 credits; Science minimum – 3 credits); Health & Physical Education – 1 credit; Driver Education - .25 credit; and the remaining credits will consist of electives to add up to at least 24
VO TECH STUDENTS
Required credits obtained in Grades 9-12, are as follows: English – 4 credits; Social Studies – 3 credits; 6 Total Credits in Math & Science (Math minimum – 3 credits; Science minimum – 3 credits); Health & Physical Education – 1 credit; Driver Education - .25 credit; and 3-9 Vo Tech credits and electives to add to at least 24.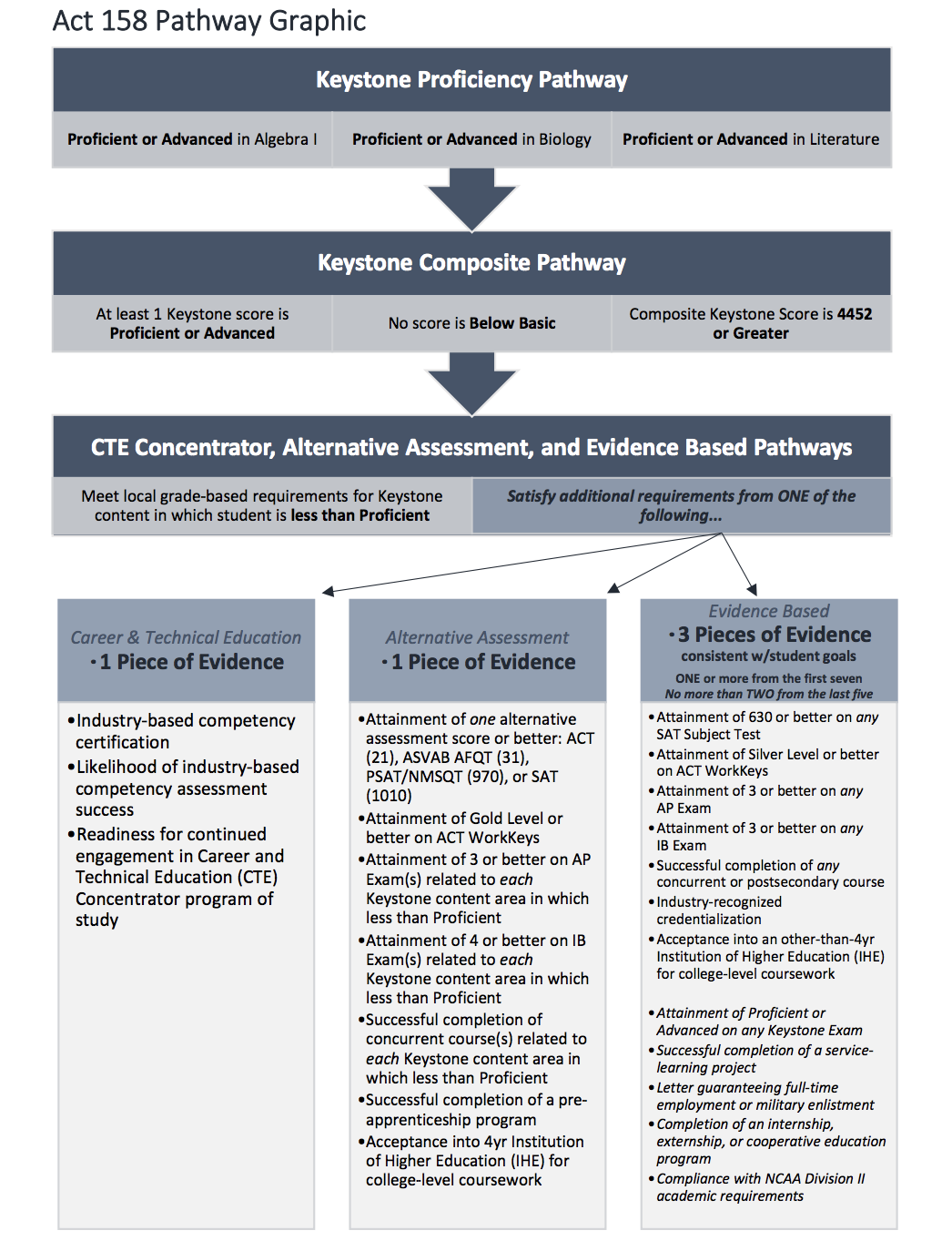 Students graduating in 2023 and beyond have the following five options to meet the statewide graduation requirement. Options 1 and 2 are the Keystone Pathways (Keystone Proficiency and Keystone Composite). Option 3 is the Alternate Assessment Pathways. Option 4 is the Evidence Based Pathway. Finally, Option 5 is the CTE Pathway. Explanations of each pathway can be found on the graphic.
The artwork of 9 Portage Elementary SIXTH grade students is on display at the Cambria County Community Arts Center.
The student art show runs through May 27th and only includes artwork only from grades 6 – 12.
Congratulations to the following 6th grade students whose artworks are featured in this museum exhibit:
Raymond Asfar
Mya Burda
Isabella Geer
Gianna Gentile
Lindsay Grove
Sara Halerz
Thor Koban
Eden Myers
Kaedyn Rice
And a special recognition goes out to THOR KOBAN and SARA Halerz! Their pastel artworks each won a ribbon and a cash prize.
Portage Area Jr Sr High School receives awards in Community Arts Center Student Art show
This years Community Arts Center of Cambria County student show will take place from May 13-May 27th showcasing local student art talent from area school districts. Twenty talented Portage students were selected to participate in this show from the High School. Portage Area students Jordan Bilak, Allison Gabel, Julia Papcun and Rylee Tomko all receive awards at the opening reception on May 12tt, 2022.
If you would like to view the student exhibit you can visit the gallery during normal business hours Monday-Friday 10am-5pm or on Saturdays 10am-2pm. Admission is free. The Community Arts Center of Cambria County is located in Westmont, 1217 Menoher Boulevard.
Congratulations to Jordan, Allison, Julia and Rylee!
The Second Grade classes constructed a zoo with 10 full exhibits out of recycled items. See the Tribune Democrat Article for more details.
Third Grade Engineers in the Classroom
Third grade participated in Lockheed Martin's Engineers in the Classroom Program. Three engineers visited the students to teach them about their careers and mechanical and industrial engineers. The told the students some of the most important things about being engineers is learning the process of how things are done and thinking outside the box. The students had the opportunity to be engineers for a while. They first learned how airplanes fly and what keeps them in the air. Then they made 3 different types of paper airplanes and took turns flying them. As they flew their planes, the were encouraged to make changes to the planes to help them fly better. The students had a great time and we might even have some future engineers in the making! A big Thank You to our guests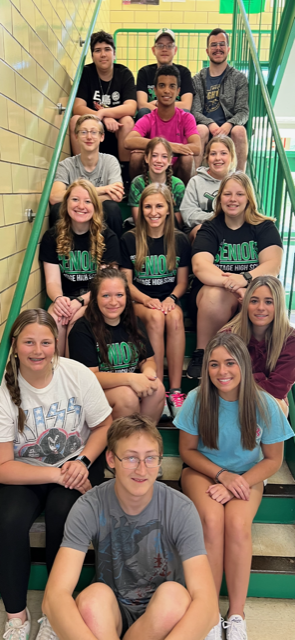 An American Heart Association (AHA) CPR ( Cardiopulmonary Resuscitation)Class was held on 5/17/2022 from 1:00pm -4:30 pm at the PAHS. The course was offered to students in grades 7-12. A total of 15 Students voluntarily signed up for a CPR course held by our district nurses' Mrs. Lisa Dividock and Mrs. Laura Glass. Both nurses are certified AHA association instructors. The course offered Heart Saver Adult and included optional modules for a Child CPR AED (Automated External Defibrillation) , Infant CPR, First Aid Training along with and a written exam. All 15 of our students and our very own Principal Mr. Ralph Cecere completed and successfully passed the course work in both cognitive and skills evaluations in accordance with the curriculum of the American Heart Association Heart Saver CPR/ AED program. Participants were provided a hard copy of their certification for completing the course work. It was a fun, and awesome experience for all. The participates now realized how important their role could be in saving a life in the event they are faced with an emergency. Mrs. Dividock and Mrs. Glass love teaching our students!! We also, truly appreciate our school board, and our administration, Mr. Zelanko, Mr. Noel, Mrs. Pisarski, Mr. Cecere and Mr. Burkett for supporting this endeavor other the years.
Student Participants included: Matthew Coffee, Cole Ellis, Ethan Geer, Isaac Geer, Kyra Giordano, Kaylie Grove, Addyson Jodon, Arabella Koban, Abrielle Koban, Sydney Leturgey, Isabella Miller, Payton Noll, James Rummell, Ryan Semanchik and Lauren Shaffer.
Emergency Broadband Benefit
The Emergency Broadband Benefit (EBB) is a temporary subsidy program from the Federal Government designed to help low-income households connect to the Internet and stay connected during the COVID-19 crisis. Qualified households can receive a temporary monthly credit of up to $50/month (up to $75/month for customers in Tribal lands) toward their Internet service and leased Internet equipment until the program's funding runs out.
Link: https://www.xfinity.com/learn/internet-service/ebb
Internet Essentials

Low-cost, high-speed Internet access for qualified households.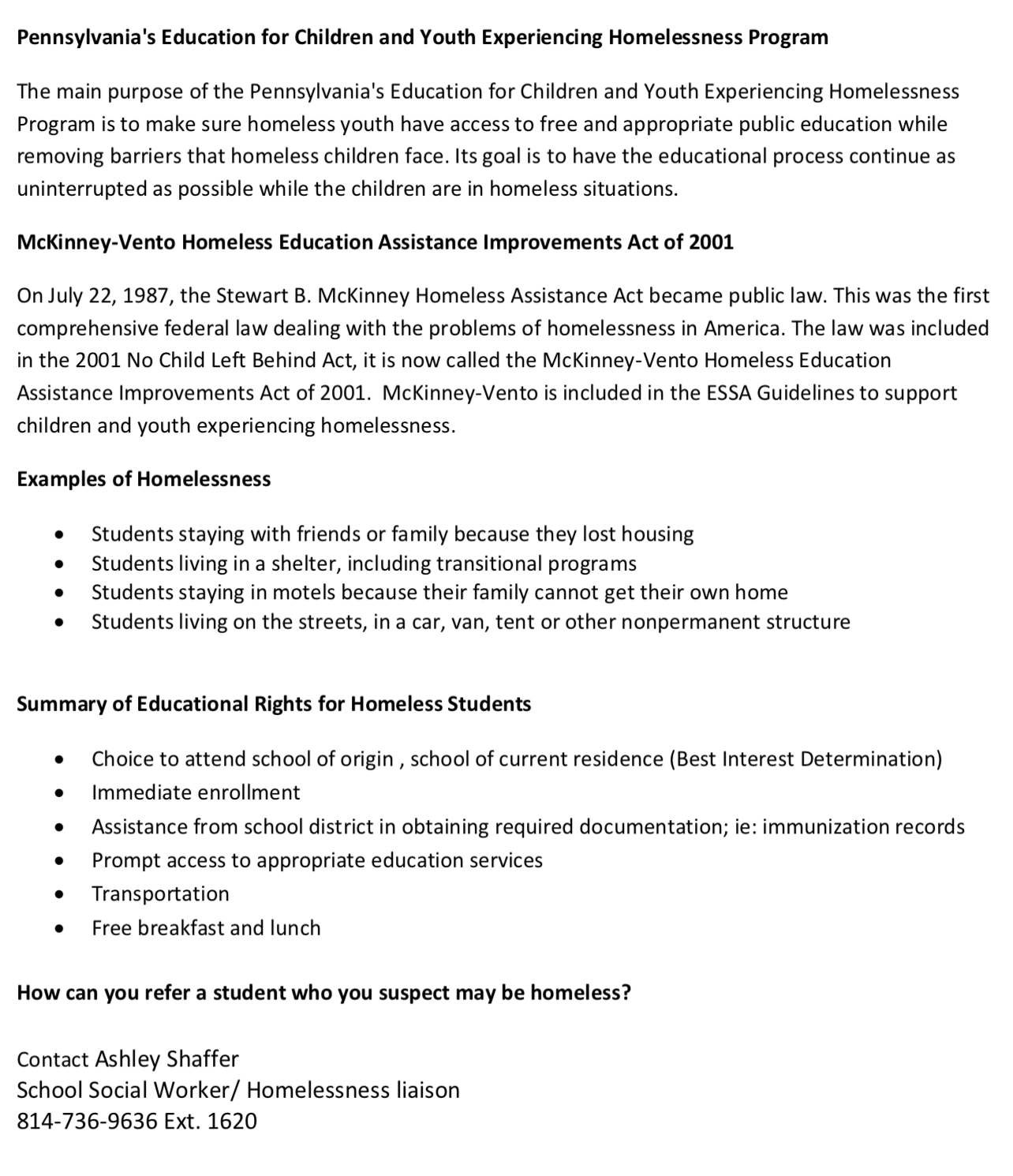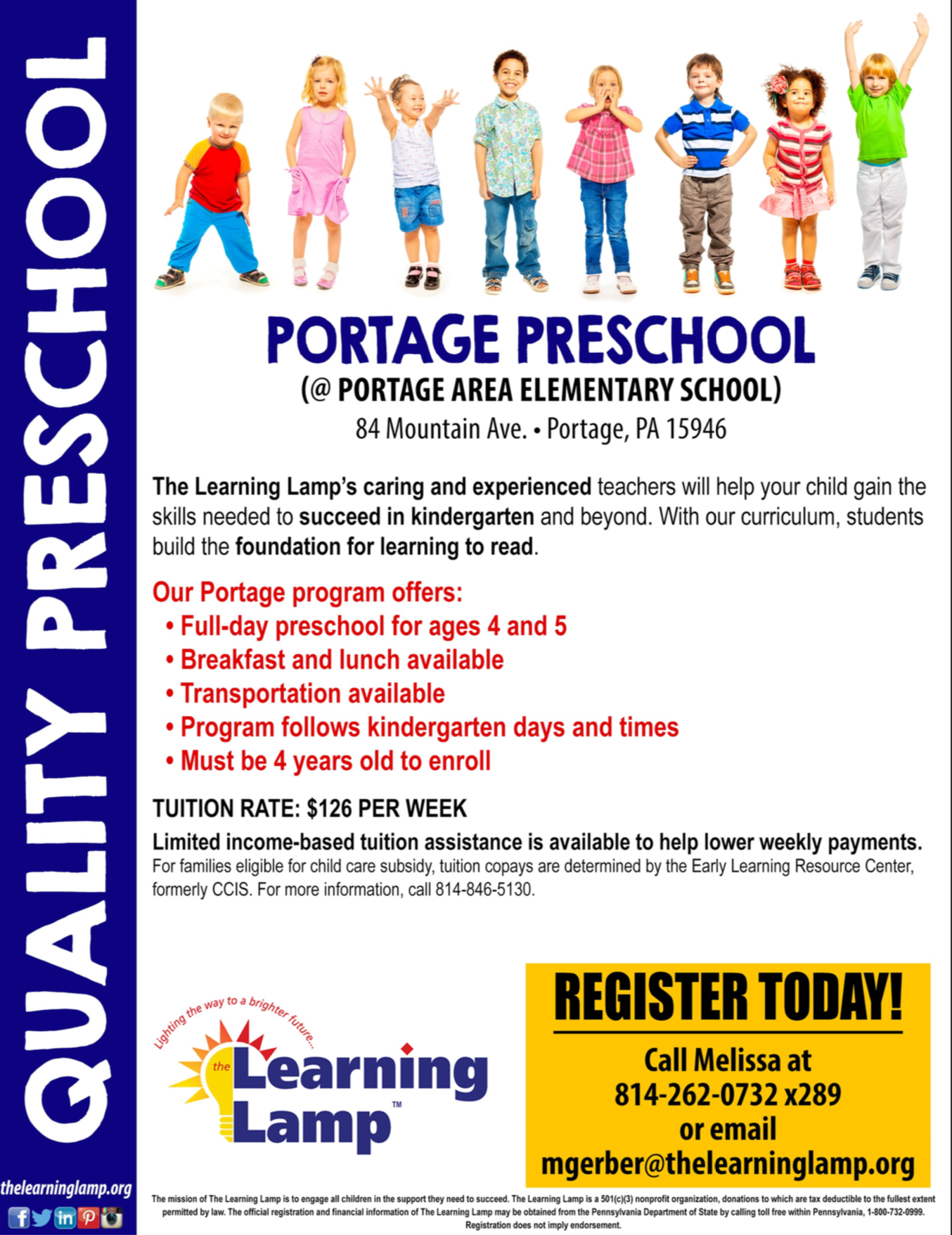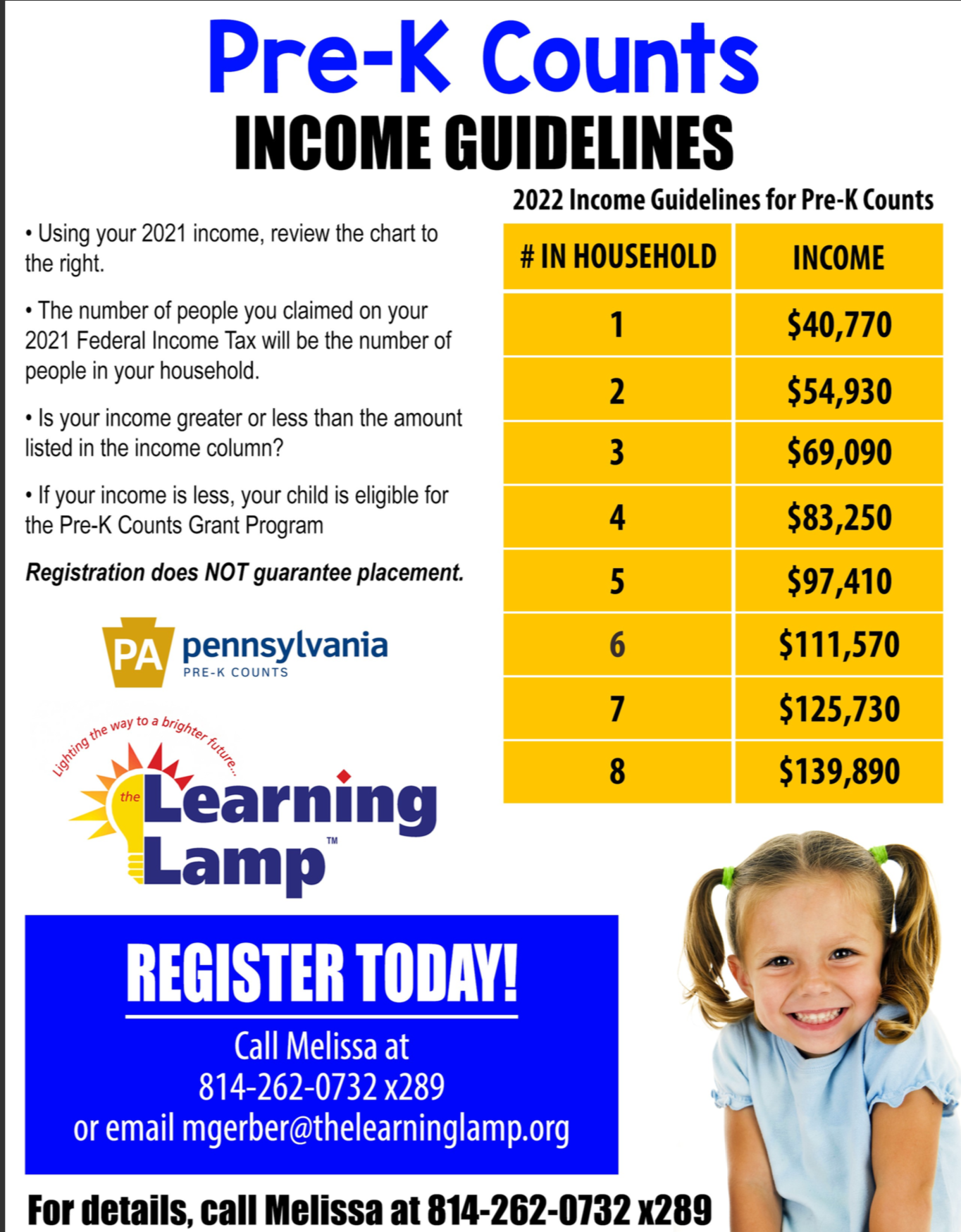 For more information please contact:
Melissa Gerber
Preschool Program Manager
The Learning Lamp
814-262-0732 ext.289
mgerber@thelearninglamp.org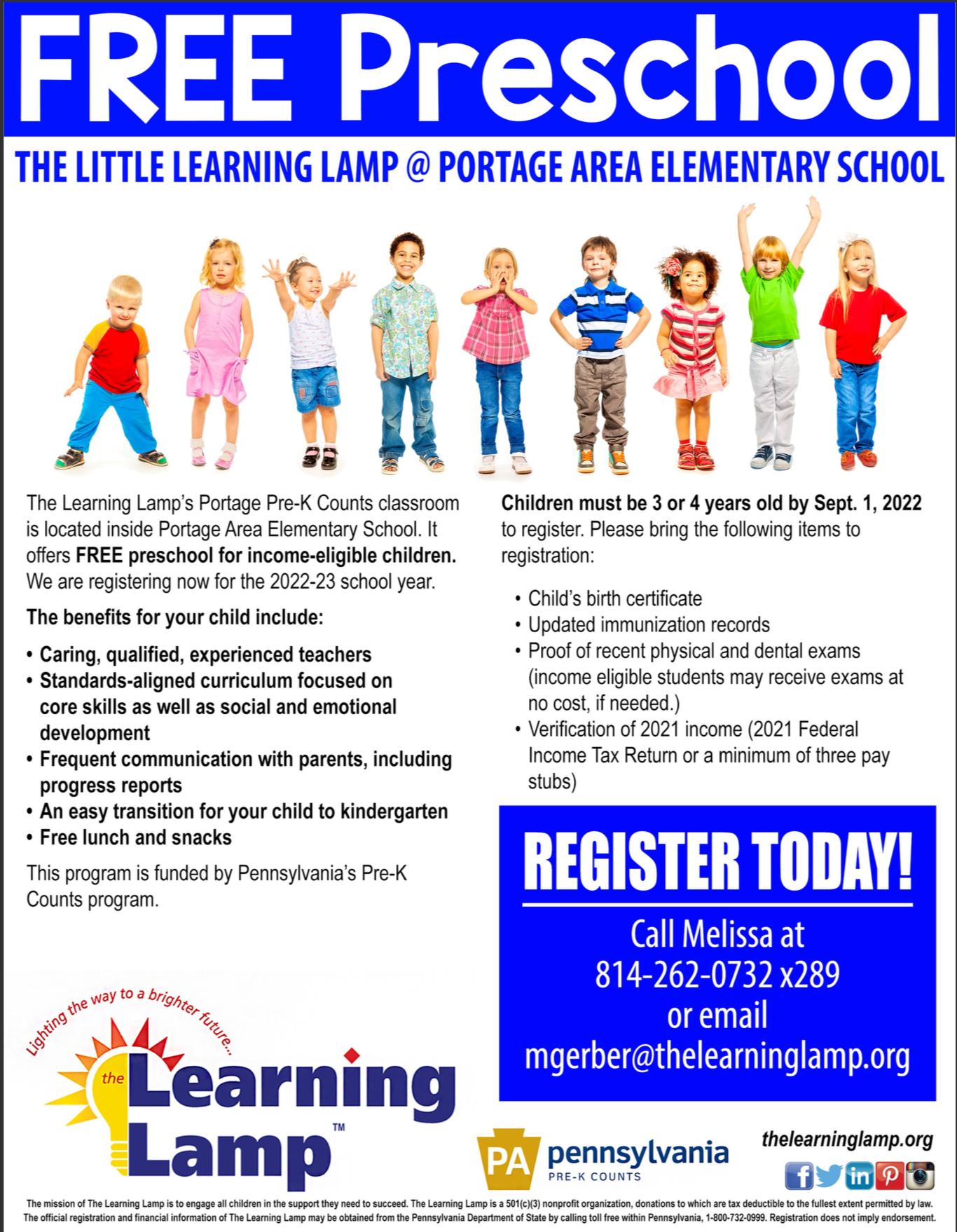 PA Latest Updates on COVID-19
Isolation and Quarantine Periods *Updated 12-30-2021
Updated PASD Health and Safety Plan 2021-2022 School Year
School-based Covid Testing Consent Form for Minors
If your child has been deemed a "close contact" for a COVID-19 exposure at school, they may still attend school if asymptomatic, wear a mask, and do testing as per the district's test-to-stay program. To help children/parents with access to rapid testing, the district participates in the State's free testing program which allows for students to be rapid tested at the school at no charge. In order for a child to be tested, a parent or guardian MUST complete the on-line consent form. No student will be tested without the consent of a parent/guardian. The consent form can be found at https://testcenter.concentricbyginkgo.com/minor-consent The access code for a HS aged student is PAHSCONSENT; the ES code is PAESCONSENT
This COVID-19 testing program also provides the opportunity to participate in weekly pooled testing if desired.
Dec 3, 2021
Test-to-Stay Program
Over the past year and a half, the number of students and staff placed in quarantine has been tremendous. Both parties have been forced to participate in remote learning while enduring the quarantine period even though they remained healthy. While a valiant attempt by everyone to maintain education during challenging times, the school district recognizes remote learning is not in anyone's best interests.
Recent statements from CDC indicate "Test-to-Stay" strategies, when combined with regular mitigation measures, as a promising practice for minimizing the disruption of quarantine on students, families, and schools while maintaining a safe and healthy learning environment. Based on the CDC statements, the PA DOH has issued preliminary guidance for school leaders who wish to adopt test-to-stay in their schools.
Beginning Monday, December 6, 2021, The Portage Area School District will implement a Test-to-Stay (TTS) program. Individuals deemed close contacts of an exposure to the virus can continue in-person learning so long as they wear a face covering in schools, remain asymptomatic, and serially test negative for COVID-19 during what would be the quarantine time.
After being deemed a close contact, individuals who wish to avoid quarantine and remain with in-person learning must:
Remain asymptomatic;
Wear a face covering while in school buildings;
Be tested for the virus within 2-4 days of the exposure;
Be re-tested for the virus within 5-7 days of the exposure. (test 1 and 2 cannot be administered on consecutive days)
The following test results will be considered eligible to fulfill the testing requirements of the TTS program:
Rapid antigen tests administered on-site through the district's testing program. Parents/guardians of students and individual staff members who choose to enroll in the TTS program and be tested in-school must actively consent to testing conducted for the program.
Rapid antigen tests administered through a health care provider
As per CDC and PA DOH, at-home tests are not eligible for meeting testing requirements for participation in the district's TTS program
If an individual test positive or becomes symptomatic at any point during the TTS program, they should immediately isolate. Symptomatic individuals will no longer be eligible to participate in TTS and must quarantine as per CDC recommended protocols.
The TTS program is only intended for school-based exposures. Individuals who were exposed to COVID-19 in non-school settings (e.g., household exposure) are not eligible for TTS under any circumstances and should continue to follow the latest quarantine protocol.
TTS may not be an appropriate strategy for all individuals. Parents/guardians and individual staff members may elect to NOT participate in TTS, and instead follow the normal CDC recommended protocol for exposure.
Please note that the TTS program guidelines are subject to change, or be rescinded, as additional data become available. The school district will follow guidance as provided by CDC and/or PA DOH.
Eric Zelanko, Superintendent
Portage Area School District
84 Mountain Ave.
Portage, PA 15946
(814) 736-9636 ext 1560